The ultimate party champagne, Piper-Heidsieck Cuvée Brut, has a celestial reputation for being a vibrant, refreshing 'coupe', to be enjoyed during the festive season. Piper-Heidsieck has a long and varied history dating back to 1785, from being a favourite of Marilyn Monroe to being the first-ever bottle of champagne to feature in a film. Piper-Heidsieck Cuvée Brut is a Christmas tipple must this year.
Today, it brings together champagne drinkers from 100 countries worldwide, with one bottle popped every six seconds. Exquisitely made from 100 crus from the length and breadth of the region, it is designed to get the party started wherever you are.
We can all become wine connoisseurs with this beautiful blend giving off intense yet gentle notes of fresh almonds, flavours of peach and orange blossom with a delicate hint of mint. It is lively and light with added depth from the Pinot Noir, creating a beautiful balance.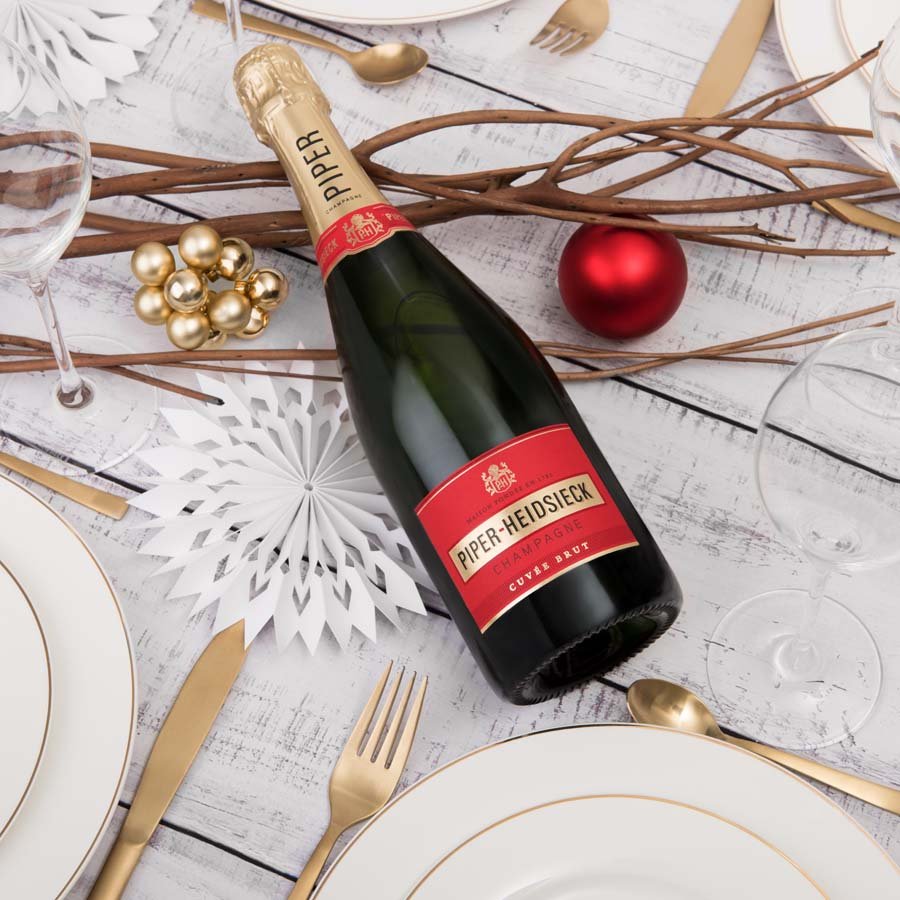 Cuvée Brut is an emblematic multi-vintage champagne sourced from 3 grape varieties of champagne: 20% Chardonnay, 50% Pinot Noir and 30% Meunier. Chief Winemaker Emilien Boutillat has a quest for excellence and open-mindedness which is reflected in the entire range of champagnes.
Piper Heidsieck has become the first champagne house to achieve B-Corp accreditation. For 237 years, Piper-Heidsieck has brought some of Champagne's finest wines to the world, while constantly trying to improve every aspect of the company, from wine-making innovation and ethical standards to the worlds increasing expectations of eco-sustainability and carbon usage.
With fresh, elegant and harmonious notes it pairs perfectly with seafood. Christmas calls for salmon blinis so what better drink to pair this with than a Piper-Heidsieck Cuvée Brut. Guests will be coming back for more, so best to stock up this Christmas.
Another delightful combination is a fresh tagliatelle, pan-fried king prawns with a white butter sauce, so be the chef this festive season with a glass of Piper in hand.
A champagne like no other, the Piper-Heidsieck Cuvée Brut should be on everyone's Christmas list.
Piper-Heidsieck
Founded in 1785 and owned by the Descours family, Piper-Heidsieck is the most awarded Champagne House of the century. Piper-Heidsieck's Chief winemakers received the prestigious title of "Sparkling Winemaker of the Year," awarded by the International Wine Challenge jury in 2004, 2007, 2008, 2008, 2010, 2011, 2012, 2013, and 2021.
Over the centuries, Piper-Heidsieck, known for its iconic cuvées, has fostered its reputation of international wine excellence well beyond the borders of France to reach Champagne lovers in every corner of the globe.
Since 2018, the Maison has been paired perfectly with one of the youngest Chief Winemakers, Émilien Boutillat, charged with safeguarding Piper-Heidsieck's unique philosophy and leading the House into the future.
www.piper-heidsieck.com/en