Ghelamco trailblazes London's repopulation of offices with new mixed-use hub, The Arc in EC1, offering 148,048 sq ft of mixed office space along with retail and lifestyle amenities and expansive roof terrace
Ghelamco, the family-owned International real estate investor and developer, has announced the launch of 148,048 sq ft of office space within its new mix-used hub, The Arc on 225 City Road, offering a fully immersive working proposition, whilst dissolving the traditional notions of what a workplace can be. The spacious, flexible office spaces of the seven-floor podium building are well-lit by natural light and feature a roof terrace, retailers, restaurant, and gym.
CBRE predicts a 'trial and error' period of new workplace strategies and cites that 'a significant majority (68%) [of businesses] were expected to be promoting a more regular return to the office by the middle of this year, of whom 23% say the process is already underway'1. To this end, The Arc offers commercial communal spaces for a new era – designed to encourage employees' cross-pollination of ideas, socialising, and repopulation of spacious working spaces.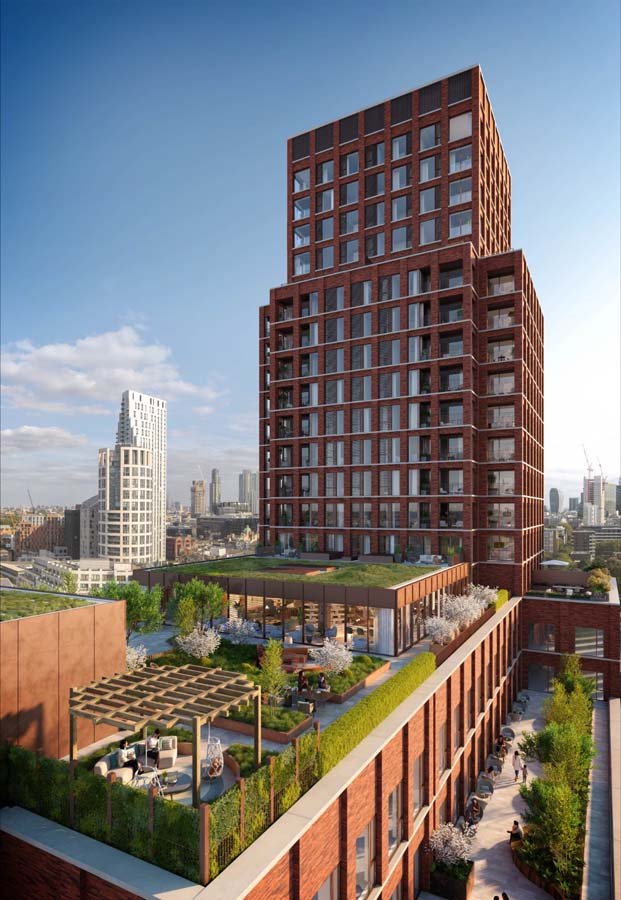 Lounge & Roof Terrace
The 7th floor is home to the lounge and roof terrace – the belt of the building where many different forms of work take place. The nearly 8,000-square-foot Grant Associates designed terrace provides unusually expansive outside space for London; with far reaching views of Old Street, The City and Shoreditch and a variety of outdoor meeting areas and seating. A dedicated open-air events space accommodates up to 50 people, from team building activities to presentations and lunchtime yoga.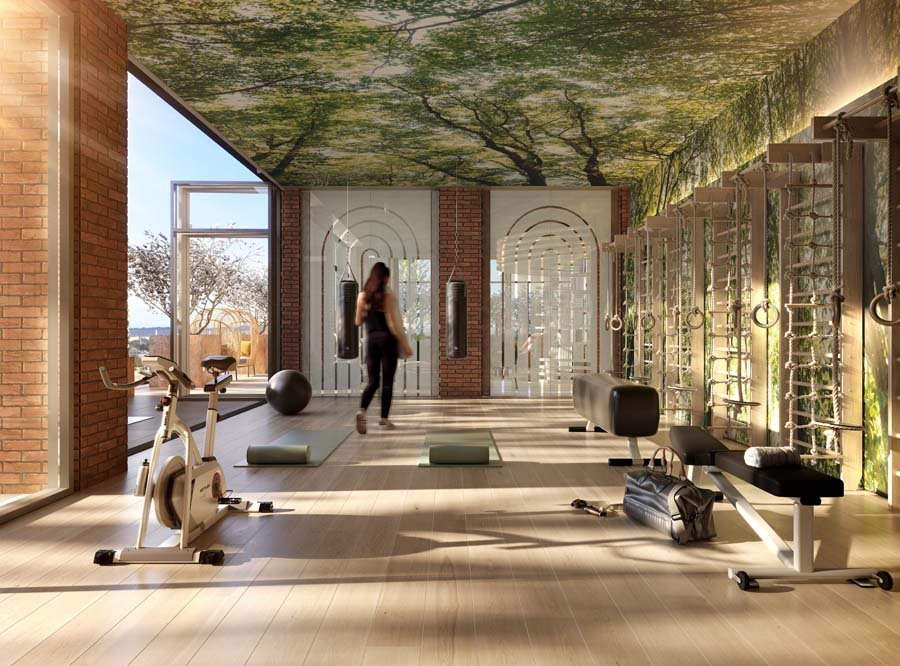 Reflecting how companies are citing 'a heightened desire for adaptability in approaches to workplace strategies (45%); increased emphasis on health and wellness (41%) and accelerated efforts towards re-design and renovation'2, socialisation and interactive areas are seamlessly assimilated on the 7th floor.
Screening Room, Golf Simulation Room
Next to the Lounge and Roof Terrace, a stylish and high-tech screening room designed by Bowler James Brindley, provides an intimate 13 seat space for smaller scale meetings and events, from internal seminars and workshops to team mixers. Adjacent to the Screening Room resides a state-of-the-art Golf Simulation Room, the perfect space to enjoy a conversation or press pause on the day's mental load.
Lobby & Restaurant
On the ground floor resides an expansive triple height 7,500 sq ft lobby space with pod seating, the ground floor also features select retailers and a yet to be revealed destination restaurant bookable for team lunches, client entertainment or social occasions. Outside, and part of the original heritage of the site is a mature tree dominating the public realm at the front of the building, has been preserved as part of the creation of a new piazza.
Gym & Cycle Hub
For a more enjoyable commute, employees can access 413 secure cycle storage spaces alongside a fully equipped lifestyle gym complete with showers, lockers and changing facilities, both promoting an active lifestyle that keeps stress levels down and energy levels up.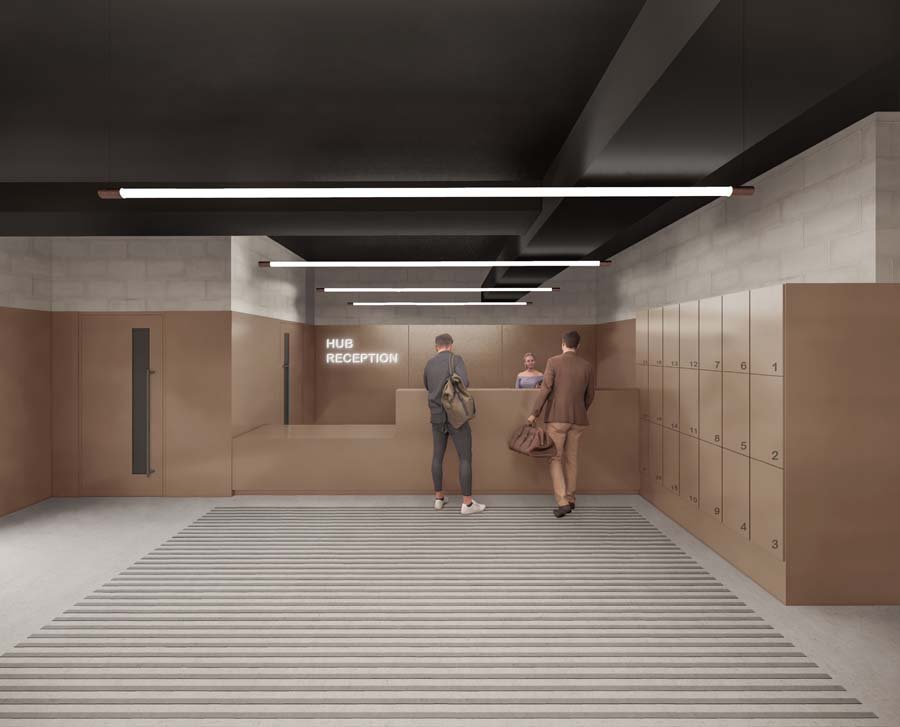 The Arc Overview
Fusing Art Moderne architecture with a bustling inner energy powered by light and space, The Arc offers three retail units and amenity space 5 minutes' walk from Old Street Station facing out onto City Road, Wellesley Terrace and Shepherdess Walk. The building is home to a space unifying sustainable design with technology-driven endeavour.
Reflecting the Environment Agency's roadmap for cutting carbon emissions and reaching net zero by 20303, The Arc provides a template for future 'green buildings' and new build schemes reflecting CBRE data that 'providing choice within the office is important, as are sustainability and air quality'.4
The Arc is a fully electric building with carbon emissions 30% lower than its multi fuel operated cousins with triple certifications including BREEAM, WELL Gold, alongside being the first UK development to be DGNB gold certified. Combined with low energy heating and cooling ceiling system, cutting edge electric heat pumps and the highest possible grade insulation and glazing, commercial carbon footprint becomes one less worry for tenants.
Flexibility has been built into the fabric of the spaces, designed to create an environment in which businesses can thrive with large, open floor plans. Super-fast fibre, smart building technology featuring a building App specifically designed for The Arc offering smart access through a personalised security QR code for the building, the lift, and amenity spaces, plus offers concierge, building updates, news, and what's on. Dedicated lifts for office floors are destination controlled, providing waiting times of less than 30 seconds, so tenants are never in a rush for their next meeting.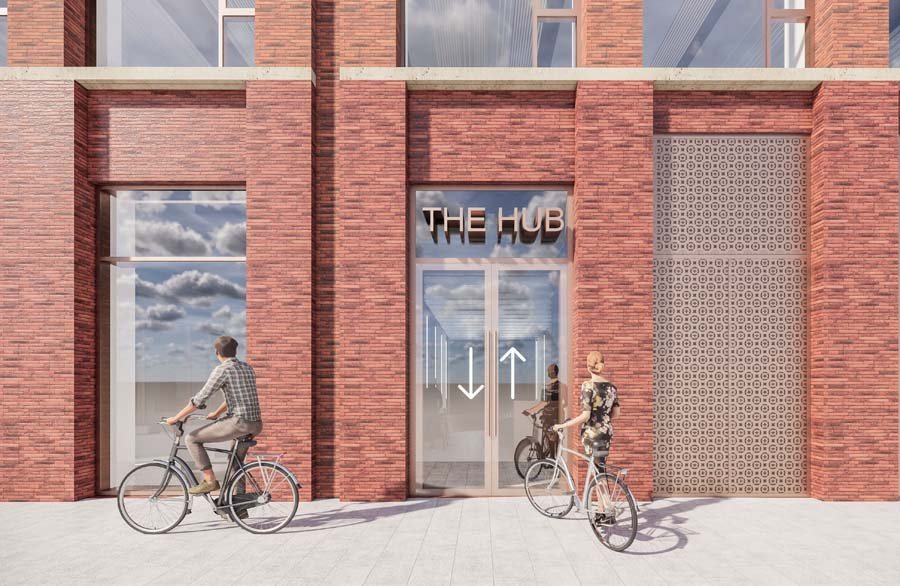 Having earlier this year announced the sale of The Warsaw HUB complex to Google Poland, which counted as the largest single transaction in the office market in Central and Eastern Europe, Marie-Julie Gheysens, Head of UK, International Business Development at Ghelamco commented with confidence: "We're proud to be offering tomorrow's offices spaces today and delighted to pioneer a sustainable and accessible space for businesses at the intersection of five of London's key City villages. Having taken into consideration new working trends, an appetite for greener ways of working, while preserving a strong element of community mixed with work and play, The Arc provides the ideal base for those who imbibe the best of sustainable and congenial working practice."
Commercial office space seems to be on a very positive trajectory, with CBRE reporting 41% of companies projecting that their portfolios will expand over the next three years, and an even larger 60% for tech firms, driven by anticipated organic or headcount growth.5
1 CBRE EMEA Office Occupier Sentiment Survey 2022 – _all figures in paragraph two
2 CBRE EMEA Office Occupier Sentiment Survey 2022
3 CBRE UK Market Outlook 2022
4 CBRE EMEA Office Occupier Sentiment Survey 2022
5 CBRE EMEA Office Occupier Sentiment Survey 2022