Beautifully Balanced and Captivatingly Complex, Charles Heidsieck Brut Reserve, Rose Reserve and Blanc de Blancs champagnes are every Winter feasts must have!
Complex, Profound and Indulgent; Charles Heidsieck champagnes represent a world of elegance and sophistication. The quality demands meticulous attention and a fine-tuned dose of unconventional decision making at each step of the champagne production process.
For end of year celebrations, get ready to mingle, jingle and be merry with a glass of Charles Heidsieck champagne in hand. What better year to drink this than 2022, as this marks 200 years since the birth of its Founder, Charles Heidsieck. A gentleman-entrepreneur with a taste for adventure, bold and pioneering, he would thoroughly and passionately pave the way of the champagne market in the mid-19th century by converting Americans to his own cuvées, earning him legendary status across the Atlantic, and the nickname "Champagne Charlie".
"Admiring the movements of Charles Heidsieck wine through the glass is like being carried by the rhythm of a Viennese Waltz. I see myself much like the conductor of an orchestra." Cyril Brun – Master Winemaker
Over the past two decades – and not less than 12 times in only those 20 years – the Charles Heidsieck Cellar Masters have been awarded the prestigious title of "Best Sparkling Winemaker of the Year" at the London International Wine Challenge. Their immense expertise and talent has brought them international renown. Each Cellar Master declares having been inspired in their winemaking by Charles' audacity and his penchant for wandering the beaten paths.
Brut Réserve
The Brut Réserve NV is a radiant pale gold colour with fine, persistent bubbles. The nose is characterised by complex pastry aromas, with an opulent combination of ripe apricot, mango, greengages, dried fruits, pistachio, and almond. The palate begins with a silky-smooth sensation, developing into ripe fleshy apricot, melon and enticing plum pastry notes and delicate spice. There is perfect balance of freshness and generosity.
The Brut Reserve is one of the best non-vintage Brut Champagnes in its category. In fact, it was awarded 94 points by James Suckling in 2021, making it the highest rated NV Brut in 2021.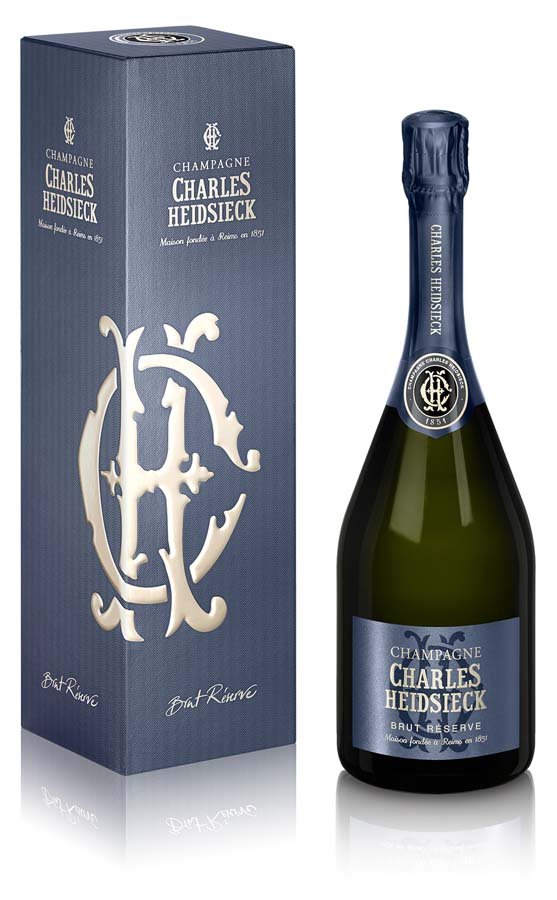 Blanc De Blancs
Charles Heidsieck Blanc de Blancs is a pale, crystalline gold colour.
The nose is characterised by aromas of mature Chardonnay; white peach, candied citrus with notes of lime, honeysuckle and fresh hazelnuts giving way to subtle hints of tangerine and lemon.
On the palate, the Blanc de Blancs bears all the hallmarks of a Charles Heidsieck Champagne: boldness, generosity, and elegance. Embracing yet light, it displays appealing mineral, slightly salty, iodine notes, and has a silky, creamy texture – unexpected from a Chardonnay – that leaves a lasting impression.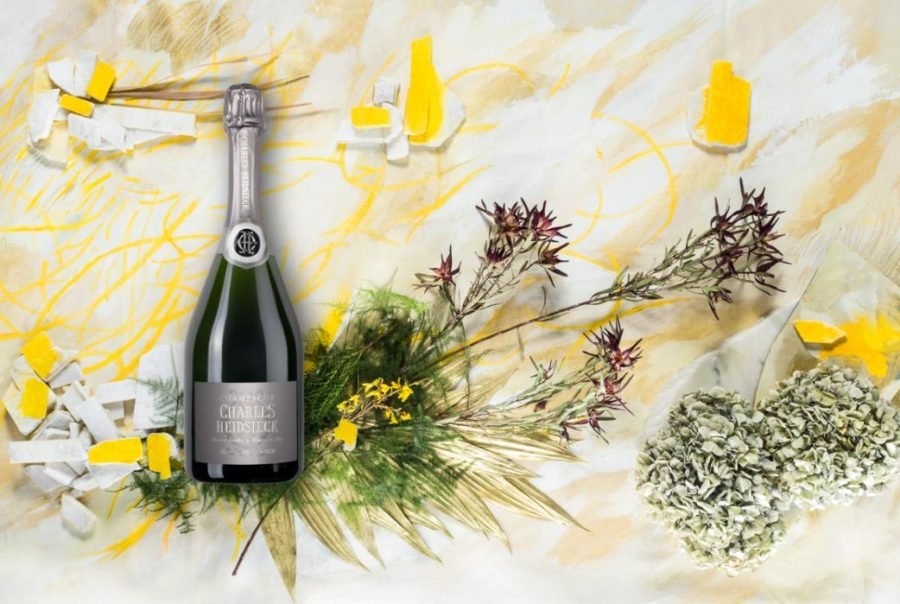 Rose Réserve
A deliciously fresh wine which perfectly expresses the complexity of the Charles Heidsieck style. Coral-like in appearance, with subtle orange reflections reminiscent of antique roses.
Delicate aromas of wild strawberries and almond pastries gradually become more intense alongside rich, warm notes of gingerbread and cinnamon. Following a silky-rich texture, the finish is long and balanced.
The Rose Reserve pairs perfectly with desserts, the ideal accompaniment to a Christmas log, or alongside mignardises and chocolates at the end to the meal.
And lastly, a legendary cuvee for legendary celebrations:
Charles Heidsieck Champagne Charlie
Cellared in 2017
Close to 80% matured réserve wines and 20% wines from 2016, 48% Pinot Noir and 52% Chardonnay.
To the eye: Dazzling, luminous golden robe.
On the nose: Notes of grapefruit, roasted pineapple enlivened with the vivacity of toasted and mineral notes. After several seconds, aromas of fresh fruits (apricots, vineyard peaches) briefly appear to give way to persistent notes of pastry.
On the palate: The texture is truly the soul of Charlie, where we find that paradox of juvenile freshness and fleshiness, with a silkiness befitting of a more mature wine. This 'dry fleshiness' is enhanced with a highly nuanced effervescence, composed of extremely harmonious bubbles. The finish reveals candied citrus and exotic passionfruit notes.
For our first Christmas period back to 'normality' after two years of lockdown, it is time to bring out the big bubble guns! Charles Heidsieck is the perfect champagne to cheer on with your colleagues, family and loved ones, and welcome the New Year in style!
The Brut Réserve NV (£57), Blanc de Blancs NV (£69.90) and Rose Reserve NV(£60) can be purchased from Selfridges, Harrods, Fortnum & Mason, Hedonism Wines, The Finest Bubble, The Whisky Exchange, Laithwaites.
Champagne Charles Heidsieck is one of the most respected Champagne houses, based in Reims, France. Founded in 1851, Champagne Charles Heidsieck is among the few prestige brands carrying the Grandes Marques distinction, and the first producer to bring Champagne to the United States. Five generations have been responsible for the House's fortune, carrying the initial vision of a champagne of extreme quality. Since 1851, the authenticity and conviction of the man known to the Americans as 'Champagne Charlie' have inspired the unique signature of his champagnes matured in the House's chalk cellars. Charles Heidsieck champagnes offer a unique blend of Pinot Noir, Pinot Meunier and Chardonnay, combined with more than 50 percent of mature Charles Heidsieck reserve wines, and aged for an average of 10 years. Each bottle matures in chalk cellars for more than 3 years, up to 40 years for collector bottles. This maturation time is essential for the development of the aromatic complexity, the silky texture and refined quality, typical of Charles Heidsieck champagnes.
Acclaimed internationally, Champagne Charles Heidsieck has been named Sparkling Winemaker of the Year thirteen times at the International Wine Challenge (IWC) and awarded with numerous Grand Or medals, Best in Show, Trophies and Gold medals during its illustrious history. Its purchase in 2011 by Christofer Descours and the EPI group enabled Charles Heidsieck to quickly bounce back with a new and international ambition.
www.charlesheidsieck.com