Baglioni Hotels & Resorts Maldives has it all – 24/7 multilingual staff, pristine pool, butler's assistance and sun lounger beach service. In addition, there is a pool bar, three restaurants, a spa with a pavilion for outdoor yoga, a shopping boutique and a Kids Club, where young visitors from 3 to 12 years old will enjoy their time. It has everything for an unforgettable holiday: relaxation, sports and author's cuisine.
It is a true celebration of Italian cuisine at Baglioni Hotels & Resorts Maldives.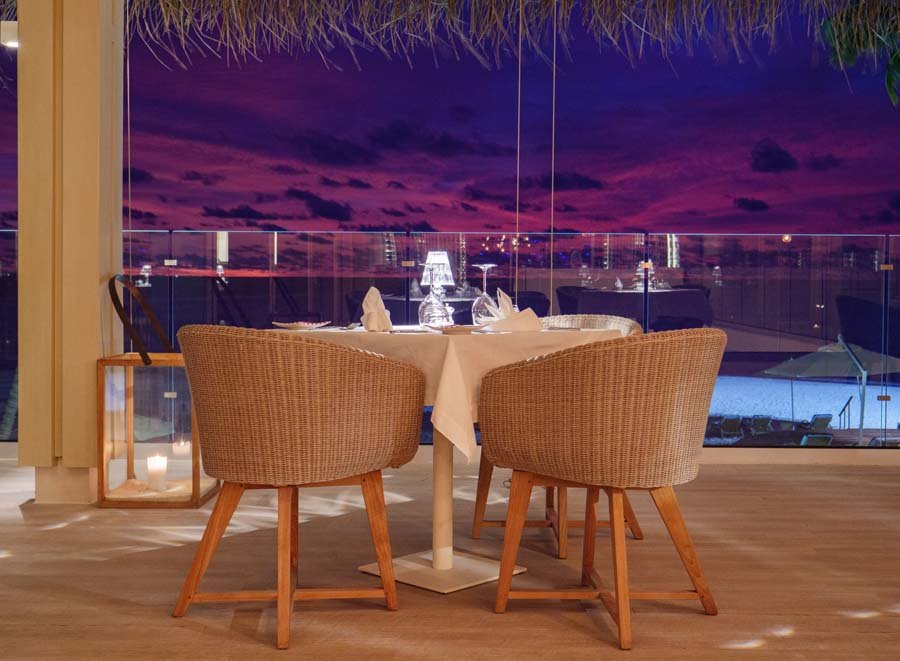 This is the perfect place for a romantic dinner under the stars. Italian culinary culture cares about both health and taste: the menu presents traditional Mediterranean dishes with a modern twist and carefully selected ingredients.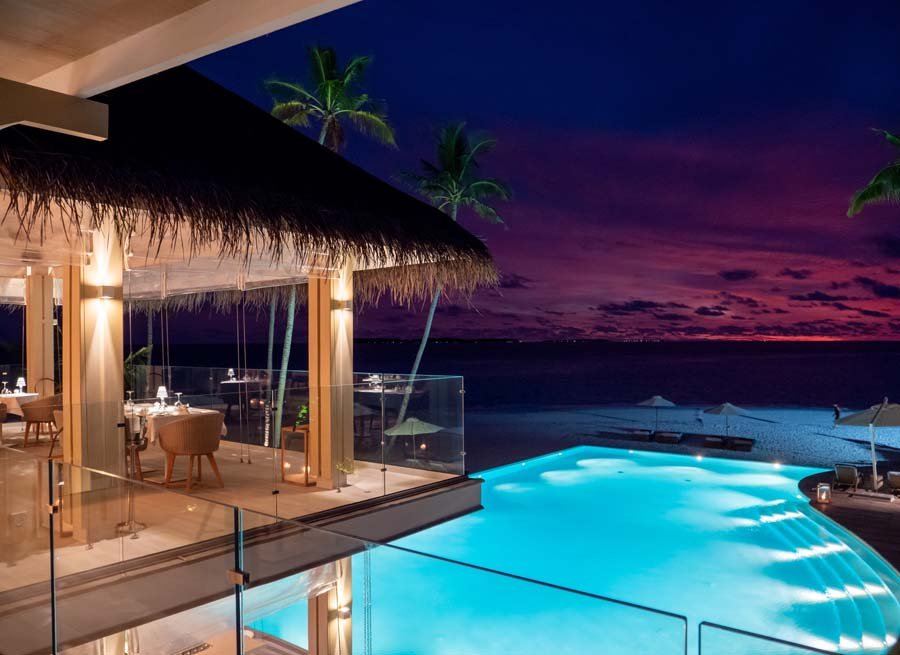 ANTIPASTI / SNACKS
Fresh Burrata cheese with tomatoes, basil and Parma ham
32$
Panzanella salad with fresh tomato dressing, fried squid and basil oil
26$
Crispy fried calamari, shrimp and scallops with fresh fried tomato salsa
34$
Pieces of milk veal tenderloin with tuna and capers Piedmontese style
36$
Mix of 12 types of green salad dressed with lemon, honey and Dijon mustard
22$
SOUP
Traditional fish soup in tomato broth with saffron
25$
Roasted butternut squash puree with mascarpone cream
18$
PASTA AND RISOTTO
Risotto with cuttlefish inks, scallops, asparagus and green peas
32$
Spaghetti with mussels, clams, squid and prawns with extra virgin olive oil and fresh ripe tomatoes
35$
Homemade beetroot pasta stuffed with spinach and ricotta cheese in a creamy roasted walnut and pumpkin sauce
35$
Penne pasta with fried pork cheeks, pecorino cheese and chili peppers in tomato sauce
28$
Spaghetti in fresh tomato and basil sauce
26$
MAIN DISHES
Sea bass fillet with braised young leek in lemon and orange sauce
42$
Grilled red snapper fillet with fresh ripe tomatoes, capers, olives and fried new potatoes
45$
Breaded salmon with parmesan cheese, sweet citrus cream sauce and potato garnish
32$
Grilled octopus with fried new potatoes, fennel, caramelized onions and tomatoes
35$
Crispy millefeuille potatoes with wild mushroom ragout, baby leek, tomatoes and white asparagus
29$
DESSERTS / CHEESE
Italian tiramisu
20$
Soft cheesecake mousse with wild berry filling and lavender
22$
Warm chocolate fondant with hazelnut caramel
20$
Cheese platter with nuts, truffle honey and crispy bread
25$
Sliced tropical fresh fruits
18$
Signature homemade ice cream (served with chocolate)
5$
CHILDREN'S MENU
Minestrone vegetable soup
14$
Chicken soup with pasta
15$
Spaghetti with beef stew in tomato sauce
16$
Penne in tomato sauce with fresh basil
16$
Fusilli in a creamy sauce with Parmesan cheese
16$
Grilled fish fillet with creamy puree
20$
Mini burger with beef and cheese, served with French fries
20$
Breaded chicken with French fries
20$
Children's pizza Margherita in tomato sauce with cheese
20$
Ice cream
5$