– The destination is only 40% complete today and its masterplan envisions the creation of a further 4 dynamic new neighbourhoods going forward, including Boka Place, Synchro, North Village and Park Gardens
– The world's first platinum-rated marina will eventually double in size, boasting a total of up to 850 berths alongside and a new full-service superyacht refit and repair shipyard
Located on the UNESCO-protected Bay of Kotor, the well-established Porto Montenegro already offers world-class facilities, including a picturesque 460 berth superyacht marina, five-star Regent Porto Montenegro Hotel and premium residences and over 300 apartments, as well as international fashion boutiques and a vibrant dining scene. Acquired by Investment Corporation of Dubai (ICD) in 2016, the fast-growing luxury lifestyle destination is still only 40% complete with plans to expand into to five neighbourhoods under its masterplan with work already underway on two of those neighbourhoods under its current ten-year development programme.
With 295km of beautiful coastline, 117 diverse beaches and over 280 days of sunshine per year, Montenegro is renowned for its unspoiled beauty, boasting five national parks, four World Heritage sites, including the Bay of Kotor, the largest freshwater lake in Europe and pristine mountains for skiing. Porto Montenegro has transformed the coastal area creating a hub for international yachting for entrepreneurs and for new inward and local business investment contributing to making Montenegro one of the fastest-growing economies in the Balkans and the second-fastest-growing travel and tourism economy in the world. The growth is reflective of an exponential rise in property prices, reaching 60% since 2012.
Upon completion Porto Montenegro will feature five dynamic and distinctive, yet interconnected neighbourhoods, which will incrementally grow and broaden the destination's offering, including the current neighbourhood South Village, which provides classic and elegant waterfront living, dining and shopping, with over 50 boutique stores, three boutique business club office facilities, over 400 private apartments, Regent Hotel & Venezia Residences Porto Montenegro with its new, 129 managed Regent Pool Club Residences across its AQUA and BAIA buildings, as well as 50 apartments in its newest Elena Residences building, all overlooking Porto Montenegro's unrivalled 460 berth superyacht marina.
A new urban village Boka Place, which is under development today and set for completion by 2024, will introduce a five-star health and wellness lifestyle concept hotel and fitness hub, SIRO, from industry leaders Kerzner International (creator and operator of One&Only Resorts, Atlantis Resorts and Residences, Rare Finds unique hospitality and entertainment destinations including the resorts of Bab Al Shams in Dubai and now of SIRO wellness hubs).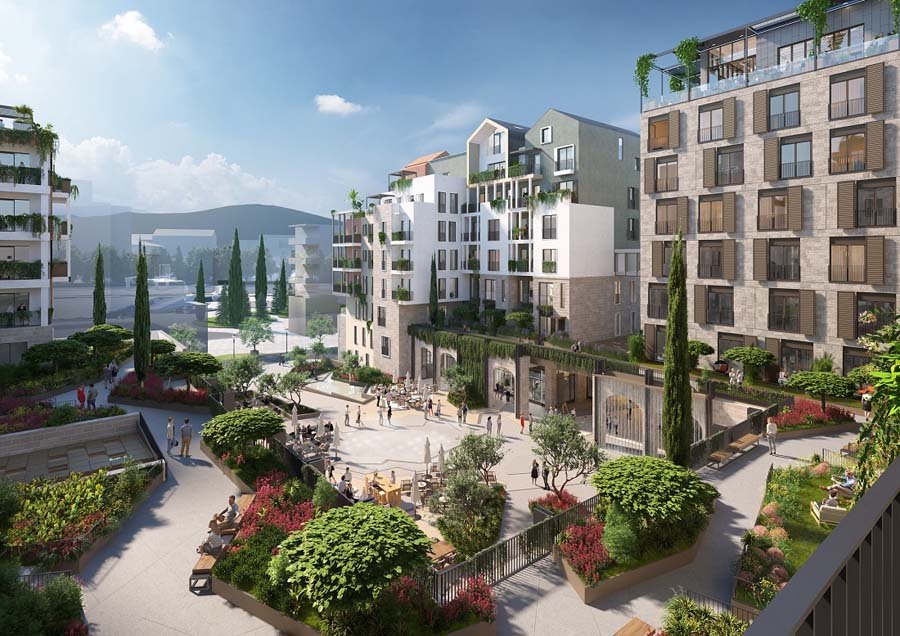 Synchro (featuring Porto Montenegro Yacht Club), for which enabling works and final design are now underway, will deliver a luxury hotel and spa set within a beach setting plus a major events and entertainment centre with a wide-ranging lifestyle and leisure programme presenting a neighbourhood of cultural vibrancy and creative fulfilment. It will also offer a collection of rhythmic spaces that focus on fuelling self-enrichment and nourishing the soul, situated within close proximity to the existing yacht club. North Village will transform the existing sports and tennis centre of the former naval dockyard and is planned as a tennis-centric village for sporting breaks and which can host small tournaments, delivering an active but informal and laid-back lifestyle hub with residences, retail and eateries. Meanwhile, Park Gardens is planned as a resort-style oasis and a haven of tranquillity with homes set amongst dense jungle landscape and a winding network of swimmable waterways.
David Margason, Managing Director at Porto Montenegro, said: "Our vision is to complete Porto Montenegro as the premier boating and superyachting hub in the Mediterranean and to reinvent waterfront living with a diverse collection of eclectic but integrated neighbourhoods, which will be introduced over the lifetime of the masterplan according to the prevailing markets, and which harmoniously fuse together to create a place of discovery, and creative and adventurous fulfilment. Porto Montenegro is a year-round destination designed for modern lifestyles supporting a balance of live work and play. With more than 40 nationalities, Porto Montenegro is a global community, where people are united in their curiosity for the unexpected and their insatiable desire for the extraordinary. Building on the success of the destination, through our new neighbourhoods, we will look to offer our residents, tourists and locals new experiences and unexpected adventures that help feed their imagination and enrich their mind, body and soul."
Boka Place – Completing at the end of 2023
Beautifully designed with interiors from regional designer Atellior, Boka Place will feature 96 hotel rooms, 144 SIR0-managed residences, ranging from studios to three-bedroom duplexes and penthouses, with the benefit of 5-star hotel concierge services and 69 private residences, including studios, one and two-bedroom apartments and penthouses, which can be managed by M Residences Rental Management Service.
SIRO Boka Place will be the wellness brand's inaugural launch and flagship property, and will offer a rooftop bar and pool, a high-performance fitness studio and Recovery Lab with a selection of health spa services, including infrared saunas and cryotherapy. The new mixed-use development will also provide restaurants and bars, international fashion boutiques and a multi-screen cinema complex. Prices from €250,000 for studio apartments; one-bedrooms from €381,000, two-bedrooms from €594,000; three-bedroom luxury apartments €725,000; as well as penthouses, POA.
Over 80% of SIRO-managed residences have been sold and reserved since the launch of off-plan sales in summer 2020, as buyers look to take advantage of the Citizenship by Investment Programme (CBI), which has now been extended until the end of 2022, as well as the opportunity to participate in the SIRO rental pool programme.
In recent years, the number of unit sales are three times* higher in Porto Montenegro than in the traditional investment spots of Spain and Portugal, and this is expected to increase further with new high-end developments being launched and major infrastructure projects such as a new highway connecting the coast and Podgorica to towns on the north such as Kolasin, and the expansion of ski facilities underway.
Porto Montenegro remains an attractive opportunity for investors for its stable political and economic climate and ease of reach as it's only three hours from main European cities. The three international airports, Tivat, Podgorica and Dubrovnik provide regular flights globally.
Porto Montenegro's World First Platinum-Rated Marina Expansion Plans
Located in the sheltered Bay of Kotor, Porto Montenegro is home to the world's first platinum-rated marina, which offers state-of-the-art facilities, with flexible berthing packages, a world class yacht club, year-round crew club activities and the added benefit of tax-free fuel, making it the perfect cruising destination for the season. The marina has a current capacity of 460 berths and can accommodate yachts up to 250m, with further plans under development to expand its offering in phases to up to 850 berths, of which 315 will be specifically for superyachts, which together with the new, adjacent, Adriatic 42 superyacht repair facility will cement Porto Montenegro's position as the largest full-service marina in the Mediterranean.
Situated only a mile and a half from the marina village, Porto Montenegro with its Joint Venture partner Dry Docks World, will also introduce a world-leading shipyard, Adriatic 42, as the old Bijela site is transformed to offer superyacht refit, repair, overhaul and maintenance needs, with exceptional quality and service, the first phase of which will be operational by the end of 2022. The introduction of Adriatic 42 is in response to an increase in traffic and demand for service and homeport facilities in the Adriatic; it will be able to cater to any vessel in the current global superyacht fleet, confirming Porto Montenegro's position as one of the very top marinas in the world.
*Source: Dream Estates Croatia & Montenegro (Savills Croatia & Montenegro)
Adriatic Marinas is a wholly owned subsidiary of the Investment Corporation of Dubai and is a specialist developer and operator of waterfront and specialist yachting destinations. Porto Montenegro is the Mediterranean's leading luxury yacht homeport and marina village. The state-of-the-art facility has been designed to cater to the advanced needs of all yachts, their owners, guests and crew with specific infrastructure for the largest yachts afloat. The marina currently has 460 berths, more than 400 sold-out luxury apartments, as well as more than 70 units of ground floor retail made up of restaurants, bars, cafes, shops and amenities and a five-star Regent Porto Montenegro Hotel with over 120 luxury suites and apartments. Constantly expanding, Porto Montenegro's newest urban neighbourhood, Boka Place is set to launch in 2023 with the introduction of 213 managed and private residences alongside SIRO, an immersive lifestyle experience from Kerzner International (Atlantis Resorts and Residences and One&Only Resorts).