Have you ever dreamed of living on a sunny island? Or long fantasized starting each day with an early morning swim in the sea? Perhaps you've been searching for a safe and ideal place for your children to attend school or a peaceful retirement destination. Look no further, as Cyprus offers all this and more – in style. We recently had an incredible trip organized by the leading Cypriot luxury developer bbf:, and we're excited to share the experience with you.
bbf: has a remarkable history that dates back over 15 years, when a dedicated group of passionate individuals came together with a shared goal: to revolutionize the architecture and development industry in Cyprus. This guiding principle has earned the company a distinguished reputation for crafting contemporary marvels, encompassing both residential and commercial developments. They have since completed over 100 residential and commercial projects, always with a focus on harmonizing comfort and technology while embracing modern living, which has garnered a loyal following. This is a testament to bbf:'s consistent delivery of exceptional results, building trust among esteemed clientele.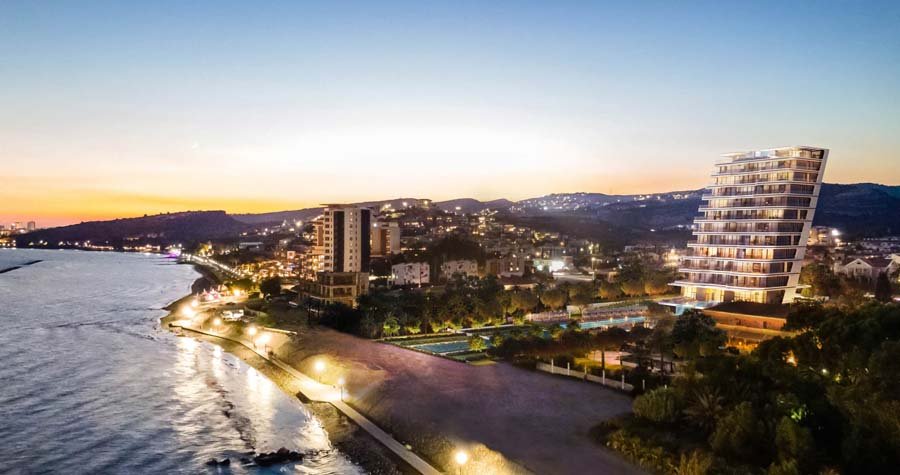 View of: marco polo (Limassol), bbf:

At the core of bbf:'s identity lies a passion for innovation and excellence. To realize this vision, the bbf: team collaborated with renowned architects, embarking on a journey to redefine quality living by prioritizing customer-centric approaches. The result is a diverse and unique portfolio, spanning various locations, architectural styles, and formats, all designed to enhance a holistic lifestyle and uphold a commitment to excellence. The company's ethos revolves around the idea of community, providing residents with the opportunity to connect with like-minded individuals, cultivate meaningful relationships, and flourish together.
The bbf: approach seamlessly integrates into all their projects, featuring public spaces, lush gardens, captivating common areas, and technology-driven elements, ensuring an exceptional living experience. Whether in cosmopolitan city centers or idyllic coastal havens, bbf: properties harmonize cutting-edge technology, sustainable practices, and timeless design, setting a new standard in the industry. bbf: follows major 21st century trends of modern living and demonstrates how comfort, sustainability, and a strong sense of community intertwine harmoniously in properties of exceptional quality that withstand the test of time.
View of: marco polo (Limassol), bbf:
Sustainability and Smart Homes
bbf: distinguishes itself by offering unique advantages through an innovative approach, always keeping people in mind. With full-circle services and a commitment to innovation, they take care of everything, ensuring you don't have to worry about a thing. Their thoughtfully designed living spaces incorporate the latest innovations, providing a convenient home experience with smart home systems, community management technology, and mobile applications that enhance comfort and efficiency in everyday life.
Living room at: montebello (Limassol), bbf:
Premium design
bbf: takes pride in delivering award-winning quality projects that prioritize healthy living. Their focus on future-forward solutions sets new industry standards with innovative properties. Unmatched quality and craftsmanship are at the heart of their work, as they create inspiring and enduring spaces. Attention to detail and the use of premium materials are paramount in every step of their projects, from concept to completion. Each bbf: property showcases a perfect fusion of innovative design, superior construction, and luxurious amenities, reflecting their commitment to excellence.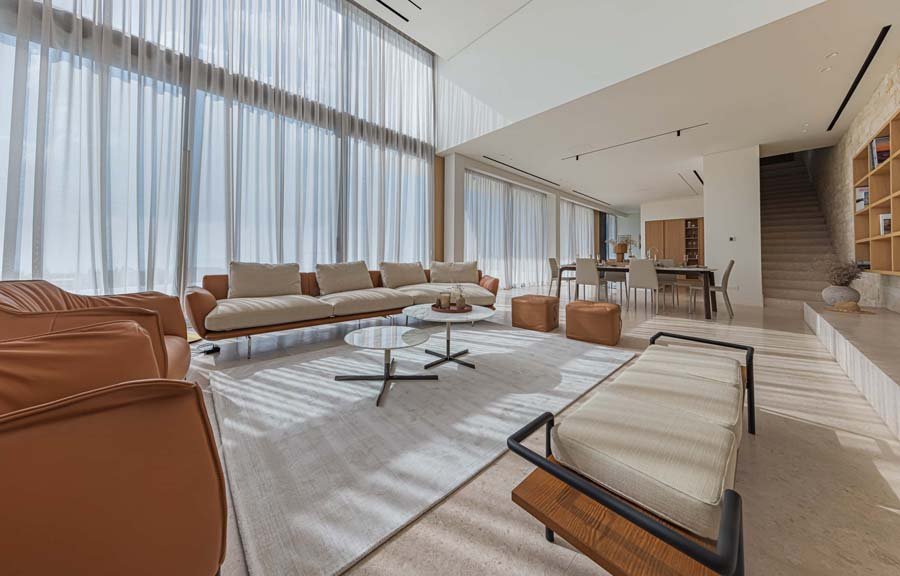 Living room at: montebello (Limassol), bbf:

Community Spirit
Joining a bbf: community means becoming part of a unique ecosystem surrounded by like-minded individuals. Experience the ideal balance between work and healthy living while immersing yourself in a supportive network. Their vibrant community prioritizes your happiness, offering a harmonious blend of modern comfort and inspired living. Engage in enriching activities, connect with fellow professionals, and enjoy tailored amenities and resources, fostering personal and professional growth in this dynamic environment.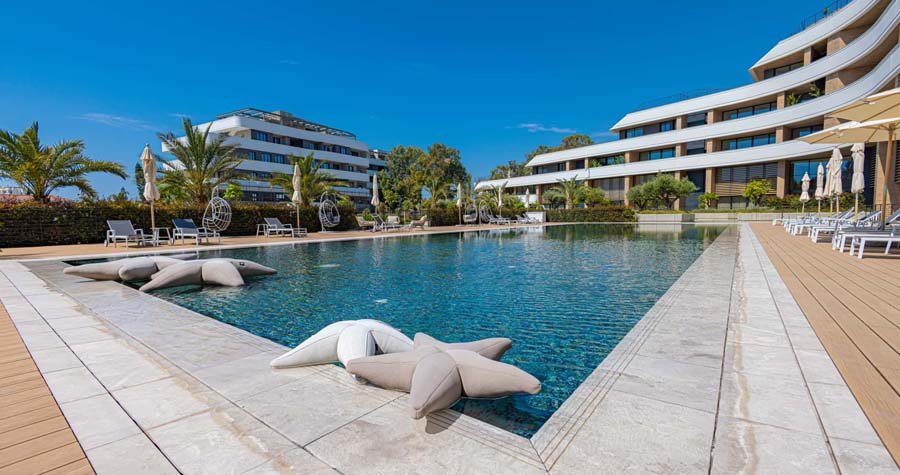 Swimming pool area at: eden roc (Limassol), bbf:
Cyprus is not only about quality living in modern residences; it also provides an enchanting climate, catering to those seeking a relaxed lifestyle. An island with easy access to both the sea and mountains, allowing you to experience combined trips in a single day. An abundance of treasures, a modern lifestyle, and much more await you to be discovered. Embrace the captivating Mediterranean charm, where ancient traditions blend seamlessly with modern sophistication. With an impressive 330 sunny days per year, your future home assures a perfect combination of a great climate, breathtaking sea views, and abundant sunshine. Immerse yourself in a year-round outdoor lifestyle, indulging in the warmth of the Mediterranean sun and pristine beaches. Choose the best for fulfilling your dreams: Cyprus and bbf:.