DISCOVERING THE WONDERS OF THE MOST AUTHENTIC PUGLIA
Travelling in Puglia is an experience made of colours, traditions, architecture, sea and tipical cuisine. Discover its true spirit with a whole world of original experiences for a memorable fun-filled holiday. Discover Otranto and Lecce among artistic and scenic beauties, food and wine or enjoy relaxing walks on the beach and invigo­rating sports actvities.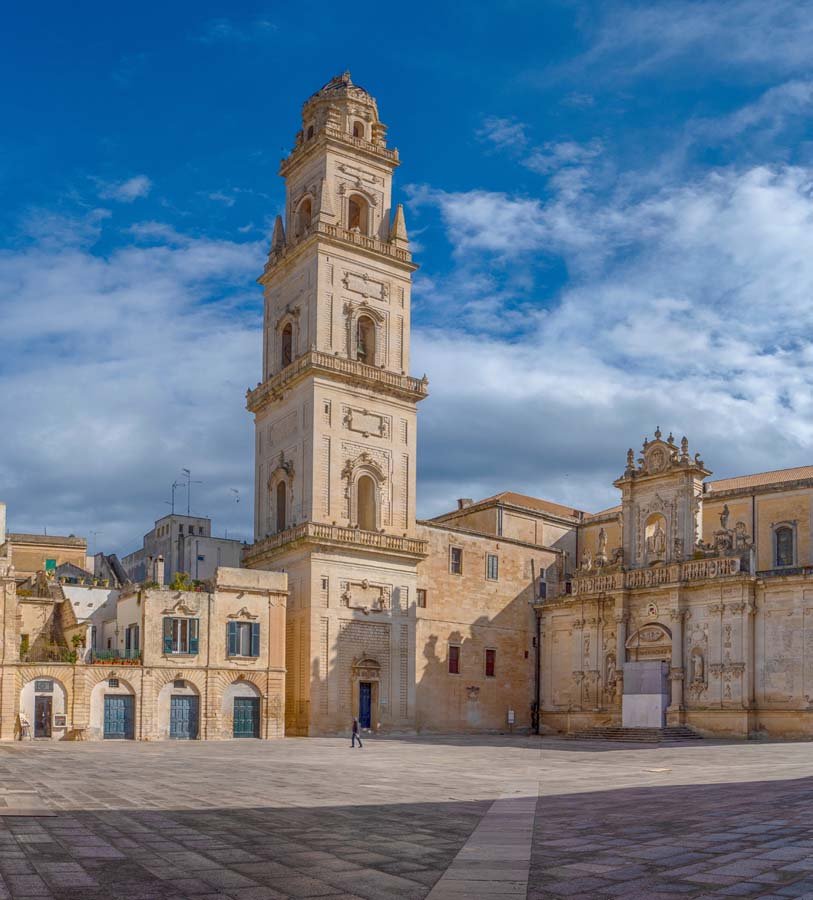 BIKE EXPEDITION IN AND AROUND OTRANTO
Explore Otranto on a cycle excursion from the historic centre to the enchanting Baia delle Orte and the Bauxite Lake. Then enjoy a delicious aperitivo with zero-miles pugliese delicacies.
TREKKING IN ALIMINI LAKES NATURE RESERVE AND THE BAIA DEI TURCHI
If you love a good hike, you won't want to miss this excursion in the Ali­mini Lakes nature reserve and the Baia dei Turchi, one of the most brea­thtaking landscapes in the Salento peninsula. Then after your exertions, relax with an aperitivo of fine local foods.
KAYAKING ALONG THE OTRANTO COAST
Enjoy an unforgettable kayak adventure along the unspoilt Otranto coast, exploring hidden caves, pristine beaches and secluded beauty spots!
TREKKING IN OTRANTO
An incredible stroll across the stunning landscape of Otranto, a historic and picturesque seaside town, located in the heart of the Regional Natural Park on the Adriatic coast at Italy's easternmost point, where everything blends into a whirlwind of history, nature and traditions. A walk in the nature to discover remote and hidden places overlooking the sea.
OTRANTO FOOD TOUR
Stroll through the historic city center of Otranto, visit some of the famous sight while tasting the best selection of artfully crafted local foods. Then have a light lunch of regional recipes and full-bodied wines! Let yourself be seduced by a world of excellent tastes taking part to a tour aimed to support small local businesses and products.
OTRANTO, TASTING IN A HISTORIC WINERY
Otranto, Italy's easternmost town and one of its most beautiful, is a rich mix of history, architecture, fine views and white sandy beaches. This tour will amaze you with the magnificent Aragonese Castle and Santa Maria Annunziata cathedral with the marvellous mosaic inside. Then you'll visit a winery with over 900 years of history behind it for a private traditional lunch with a tasting of several wines in the shady pergola gazing on to a garden suffused with the cool of the fragrant orange trees.

FAMILY TRUFFLE HUNTING EXPERIENCE IN OTRANTO
The adventure begins with a journey of discovery in the fabulous world of truffles, a precious hypogean fruit whose search and extraction are protected as an Intangible Cultural Heritage by UNESCO. Master truffle hunters with their truffle dogs will accompain you on a magical experience: a truffle hunt and extraction. The experience will continue with a visit to a synergistic orchard, where you will be picking some seasonal vegetables that you will use during the cooking class held by Executive Chef Antonio Spennato. The tour concludes with a fresh truffle-based lunch accompanied by a sommelier's selection of excel­lent wines. This experience is aimed at all the truffle lovers.
A GOURMET TOUR OF LECCE
A culinary tour of Lecce to discover the specialities of Salento. Stroll the historic streets as you enjoy traditional Lecce street food amid the city's architectural highlights.
A TOUR OF LECCE'S ART AND CRAFTS
Lecce is a veritable treasure trove to explore. Your tour will take you to a local papier mâché artisan's workshop followed by the contempo­rar studio of an international master artist. Then admire one of Lecce's loveliest secret gardens, nestling inside an aristocratic family's historic mansion.
ALBEROBELLO, TRA TRULLI E MOZZARELLA
You can visit Alberobello, the UNESCO world heritage site to savour its stunning, peerless charm and learn about its local traditions. You'll meet a local artisan cheesemaker, who'll show you the art of making fresh mozzarella and burrata; you can even try your hand at making some mozzarella knots yourself!
ALBEROBELLO, TRA TRULLI E MOZZARELLA OSTUNI: OLIVE OIL TOUR AND PICNIC AMONG THE AGE-OLD GROVES
With its famous whitewashed houses that add a luminous beauty to the old centre's limestone lanes, Ostuni is a place of history and tradition. Explore Ostuni with a local guide before visiting an old farmhouse for a special tasting of their local olive oil. Treat yourself to a delicious picnic with a basket of traditional Puglia delicacies in the shade of the old olive trees.
A BOAT TRIP CRUISING THE SALENTO COAST
Sail around the Salento coast, explore the stunning coastline with its breath-taking landscape made up of majestic sea caves, rocky and sandy beaches and watchtowers, while posing for a swing around the majestic lighthouse "Punta Palascìa". You can even snorkel to some locals caves only accessible by sea. You will also be delighted with a delicious apulian aperitif, that will be served onboard accompanied by the finest Apulian wines. Have a relaxing brief escape for the day: get lulled by gentle waves, and enjoy the fresh air, peace and silence out in the middle of the Adriatic Sea!
A PRIVATE YACHT ALONG THE SANTA MARIA DI LEUCA COAST
Step on board an elegant private yacht and sail along the coast of Santa Maria di Leuca, the tip of the heel of the Italy's boot where the Adriatic and Ionian seas meet and mingle like an embrace. Admire the natural surroundings and enjoy the wonderful spectacle of the sea during the day or at sunset, watching the sun dive into the sea. Leave all your stress and worries back on the shore and have a relaxing, brief escape for the day: get lulled by gentle waves, and enjoy the fresh air, peace, and silence out in the middle of the Salento sea.
Tel.: +39 0836 237686
reservations.masseriamuzza@baglionihotels.com