Idea: Standalone feature on The Nautilus Maldives and the ultra-luxury private island resort's approach to conscious luxury, highlighting marine conservation and marine-life experiences
Spokesperson: Emily Jupp, Resident Marine Biologist at The Nautilus
The Nautilus is an ultra-luxury private island resort that creates completely bespoke holiday experiences. Located on the Baa Atoll in the UNESCO World Biosphere Reserve, the resort is surrounded by coral reefs and the exquisite natural beauty of Hanifaru Bay, a draw that has made the Maldives one of the most popular travel destinations.
Preservation of this natural environment is not just an ethical duty but is fundamental to the communities and livelihoods that live there. As part of The Nautilus's commitment to conservation they have a number of initiatives in place in addition to a resident Marine Biologist, Emily Jupp.
Conservation Initiatives
Educational talks – Emily leads an education programme for guests offering sessions so that they can learn and become involved in preserving the marine ecosystem: from talks on the complex coral reef systems to showing guests how to identify reef fish species and explaining the importance and lasting impact of marine conservation
Coral rehabilitation – Part of Emily's work at the resort is the rehabilitation and development of the island's coral reef. Fragments of live coral are collected and reattached to coral frames to grow and repopulate degraded areas of the reef
Coral adoption – Guests are invited to take part in this initiative, adopting a coral frame and even positioning in the lagoon. Guests are able to monitor their adopted coral's growth via online image updates – a one-of-a-kind souvenir
Guided dives – The Nautilus offers the opportunity to dive and snorkel with Emily, bringing her expertise underwater for a fully guided experience; from swimming with Manta Rays and even Whale Sharks, to identifying the breadth of sea life and building an awareness of the coral reefs systems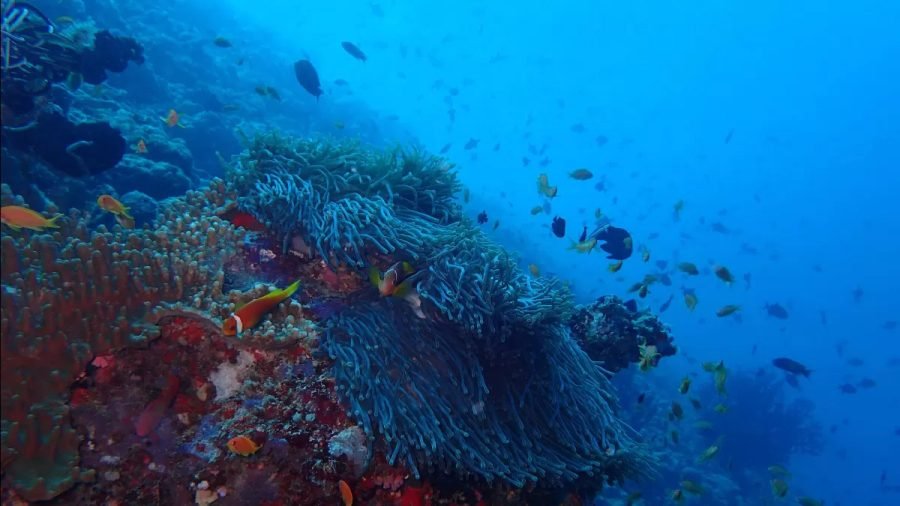 Marine-life Experience
Diving – Guests have access to over 40 dive sites, run by AquaNautica PADI dive centre, who offer a variety of Maldives diving excursions in Baa Atoll and further afield, including private dives
Snorkelling – Guests are free to borrow snorkelling equipment free of charge throughout the stay. If one is staying in the Overwater House, the distance to the ocean is mere steps away. Guests have the opportunities to witness dolphins, mantas and other marine life; as well as the range of corals
Water Sports – The Nautilus operates a selection of water activities which are all operated in compliance with the restrictions required in an UNESCO Biosphere Reserve. Experiences include exploring the atoll by and snorkelling with a Seabob
Private yacht – Guests have the opportunity to discover the waters of the Baa Atoll through an exclusive yacht excursion, which includes visits to deserted islands, sunset dolphin trips and secluded sandbanks
Manta Season – Guests are invited to experience swimming with manta rays at Hanifaru Bay; which is within a 15 minute boat trip from The Nautilus. Visitors can witness the manta season at The Nautilus from May to December and plan their once-in-a-lifetime experience.
Hanifaru Bay – Hanifaru Bay is famous for its manta season, where visitors can witness the largest recorded population of reef mantas in the world, around 4,000, during the southwest monsoon from May to December. The Hanifaru region is protected by the Environmental Protection Agency and UNESCO Biosphere Reserve, with licensed guides, bans on scuba diving and fishing, strict speed limits enforced by park rangers, and fines for any marine disturbances. This results in a unique and undistributed experience with the manta rays for guests
Night Water Adventure – Guests can experience night diving or snorkelling tours with experienced dive instructors to witness the ocean at nightfall
Guests can expect to see different marine life after dark such as crustaceans like crayfish, crabs and shrimps, and cephalopods like cuttlefish, squid and octopus
Emily Jupp invites guests to experience the water at sunset, providing a glimpse into the changes in species behaviour as night falls
The reef is more tranquil at night with lots of smaller fish finding nooks and crannies to sleep and hide from predators
At night, it is more common to see black tip and grey reef sharks as they are more active during low-light hours as well as moray eels – who spend the nighttime swimming and hunting
Guests can also witness the glows of the bioluminescent algae at night; by simply gliding their hand through the water and seeing it glow with sparkles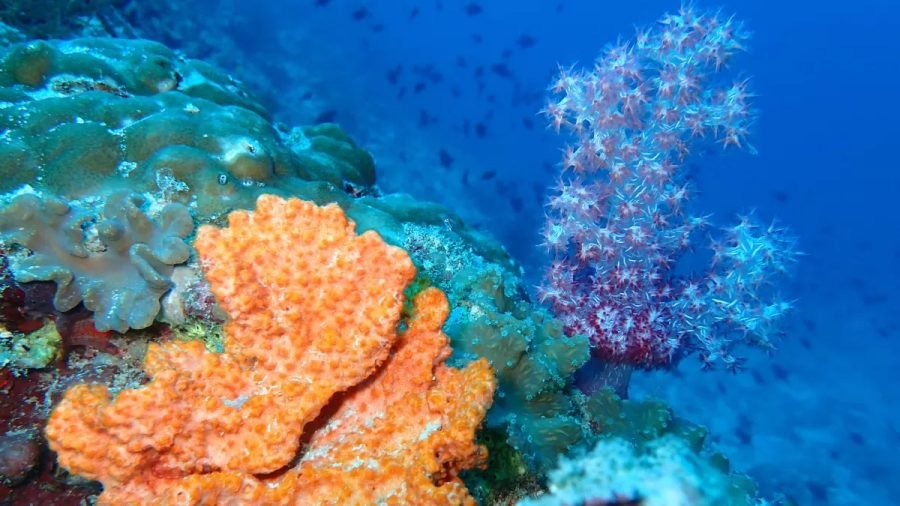 Emily Jupp is the resident marine biologist at The Nautilus Maldives with a deep love for the ocean and a commitment to marine conservation and exploration. At The Nautilus, Emily plays a vital role in the private island's commitment to preserving and protecting the unique eco-systems of the Maldives, spearheading not only sustainability initiatives and experiences for guests but also supporting the resort's commitment to looking after and giving back to the environment. This includes studying marine species and their ecosystems, implementing and maintaining sustainable practices for ocean preservation such as coral restoration and adoption and running educational talks and dives for guests.
Along with her First Class Honours in Marine Biology, Emily has numerous certifications, including MARINElife Marine Mammal, Seabird Surveyor and RYA Marin Radio Short Range (SRC), is a certified PADI Scuba Instructor, PADI & PFI Freedive Instructor, Emergency First Response Instructor, and DAN Europe Diver Medic Technician. She is also certified in Deep Diving, Enriched Air Nitrox, Night Diving, Shark Conservation, and Wreck Diving.