254762RECYCLED, UPCYCLED AND CAREFULLY SOURCED: THE ARC'S UNIQUE SHOW APARTMENT, BY OWL DESIGN, COMBINES A BOLD AESTHETIC WITH AN INNATELY SUSTAINABLE FOUNDATION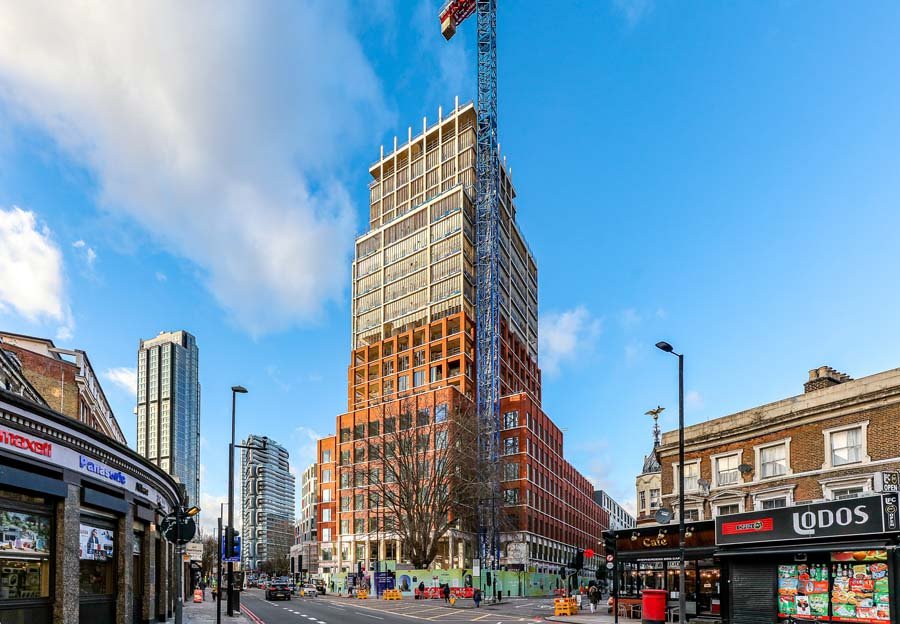 Owl Design has created a show apartment with a difference for new Shoreditch development, The Arc
Opening in 2023, The Arc in Shoreditch, a fully electric smart development by Ghelamco, has launched a unique show apartment by Owl Design, now open for viewings for prospective buyers. Subverting expectations with a combination of carefully curated accessories, a bright, distinctive aesthetic, the show apartment is underpinned by conscious luxury and uplifting design.
Going against the 'show apartment' norm of neutral tones and minimalist décor, Owl Design has combined bold colours with sustainably sourced fabrics, furniture and accessories, rich in texture and pattern.
Each carefully selected object and material has a story to tell, with many being recycled or handmade.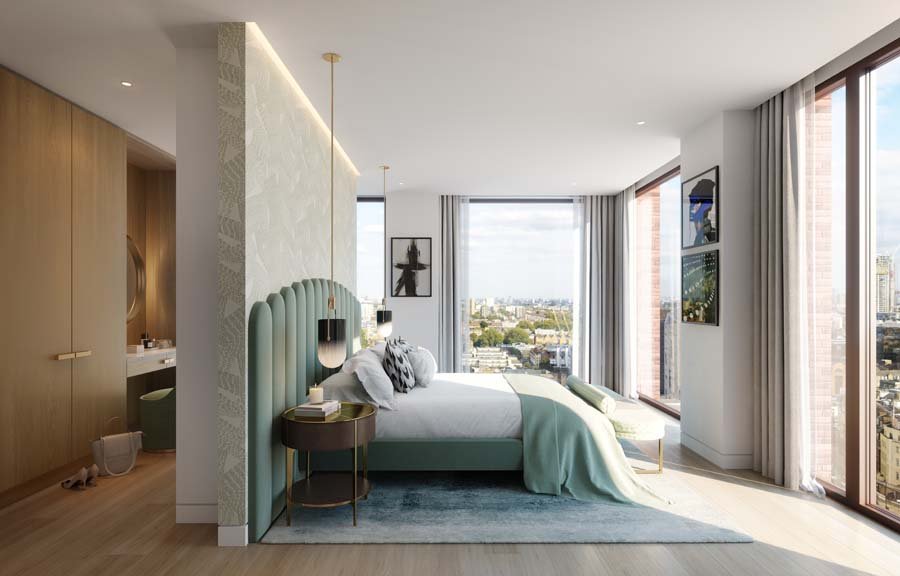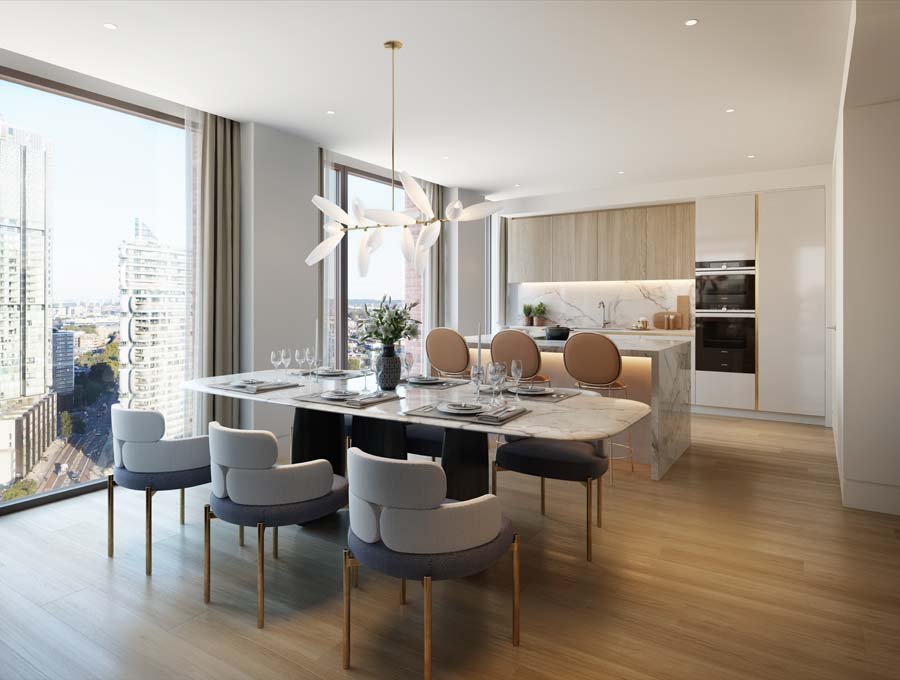 Pieces by local London makers include: oil paintings by Max Hembrow; ceramics by Henry Holland Studio, Vic Wright Studio and Quillattire; and handmade lamps by Miyelle. Similarly, much of the furniture has been bespoke refurbished and reupholstered exclusively for The Arc – with Owl Design having always been firmly ahead of the 'upcycling' trend which has grown exponentially in recent years.
THE LIVING ROOM & DINING ROOM
Palette, Paints & Fabrics
The living and dining room features a unique palette, fusing rich, rust red – a direct nod to the exposed brickwork that features throughout The Arc – with pastel pink, green and blue. The layering of textures through fabric gives a depth to the room that otherwise focuses on block colours.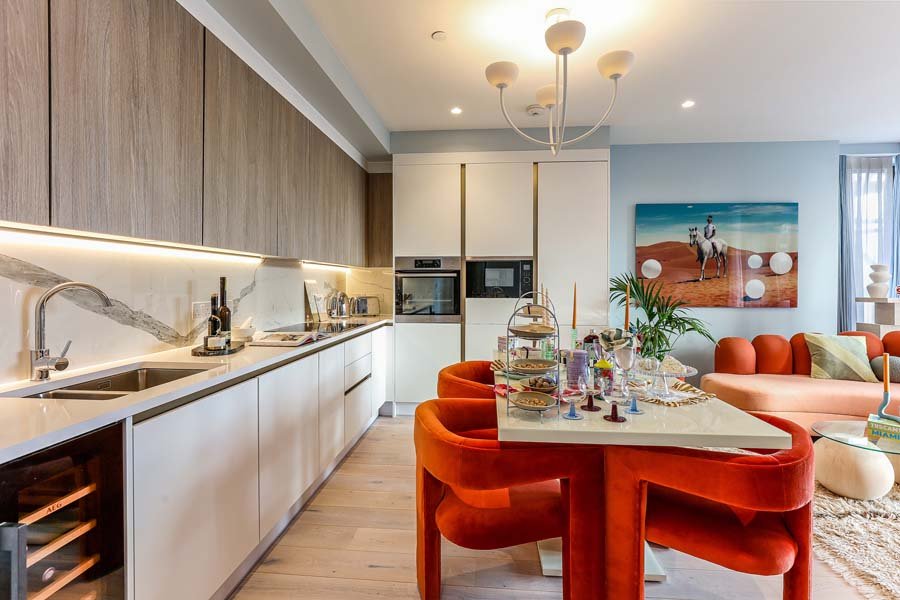 Furnishings
A simple curation of items that make a statement, such as an abstract, totem sculpture, and bold artworks by a local artist. The soft, pastel blue walls are offset by the deeper pinks and reds of the furniture. Each item has been carefully considered for its sustainability credentials, including an upcycled, vintage sideboard, spray painted in a rust shade, with a contrast gloss lilac interior. The Roly Poly Chair in 'Flesh', bespoke sofa and hanging pendant light have a mid-century modern feel.
Bespoke Sofa
Hand-made using unique, sustainable fabrics, and created exclusively for The Arc.
The 'Wilson' fabric on the backrest is made from 100% recycled plastic waste. Upholstered pill shapes graduate in size, offering a comfortable, padded front, and smooth back. The 'Wolin' fabric on the seat is made from 75% post-consumer recycled wool. Ball-shaped 'Otto' feet by Pretty Pegs are painted in a complementary shade of mint green.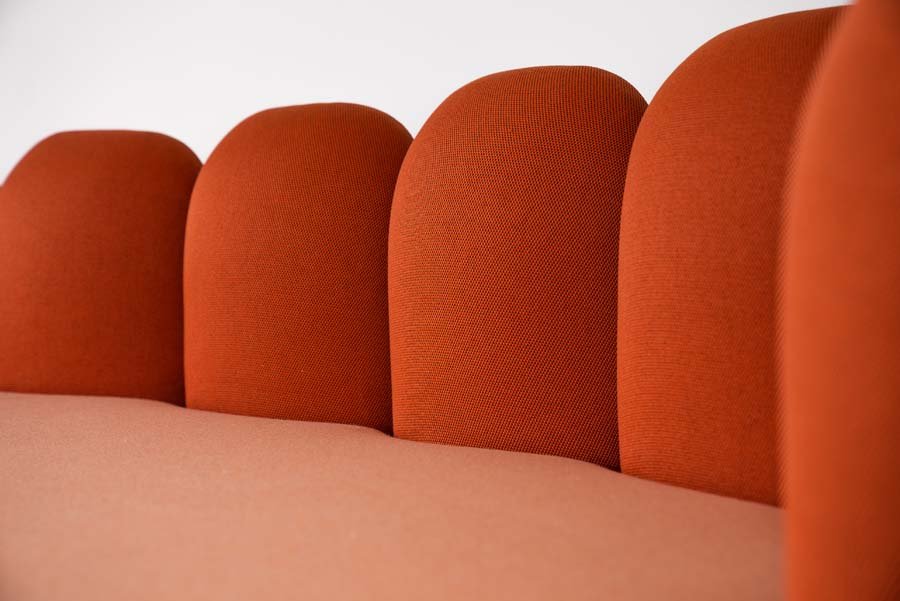 Vic Wright Studio, SCP London
Ceramic artefacts from the 'Cast Editions' range by Vic Wright Studio add an additional layer of bold, simplicity to the décor. Using industrial materials to create delicate tactile results, Wright's work evokes the natural world, distorted and moulded to give new context.
Metal powders and pigments are added to a base of sustainable casting cement. When dried, this results in different textures and colours, ensuring each piece is completely unique.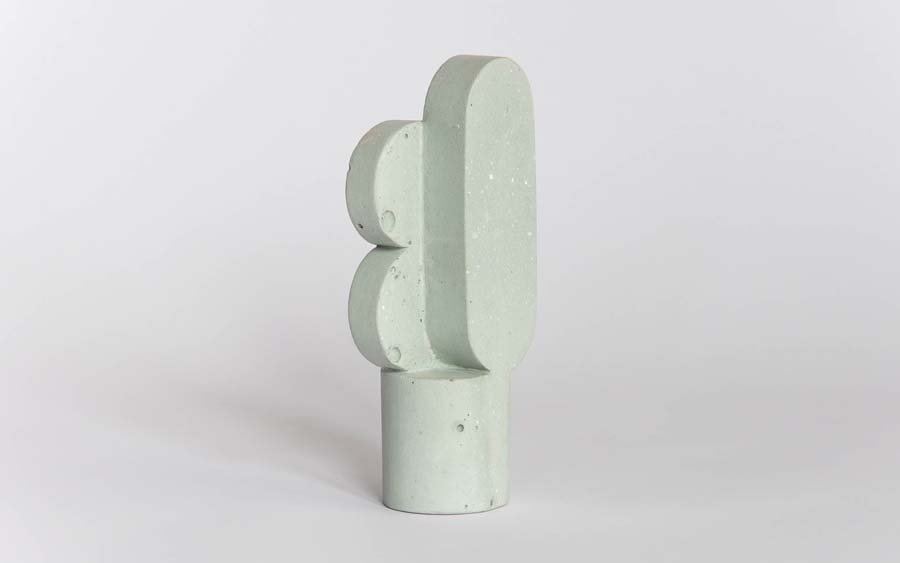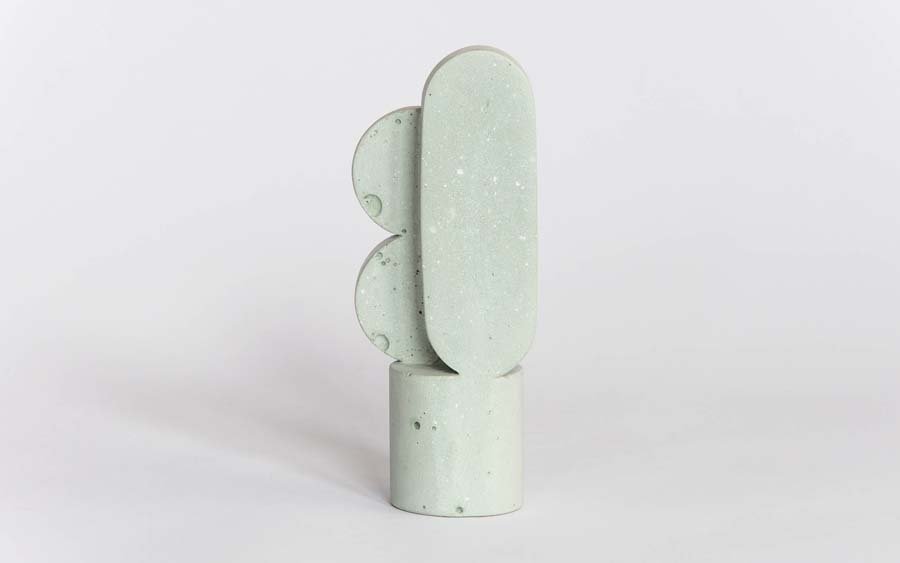 Henry Holland Studio
The apartment features work by Henry Holland Studio: a collection of handmade ceramic homewares by former fashion designer, Henry Holland.
Holland's work is an interpretation of the Nerikomi technique, learned at his local Hackney pottery studio. The process involves stacking, folding and rolling coloured clay, then hand-moulding it into functional organic shapes.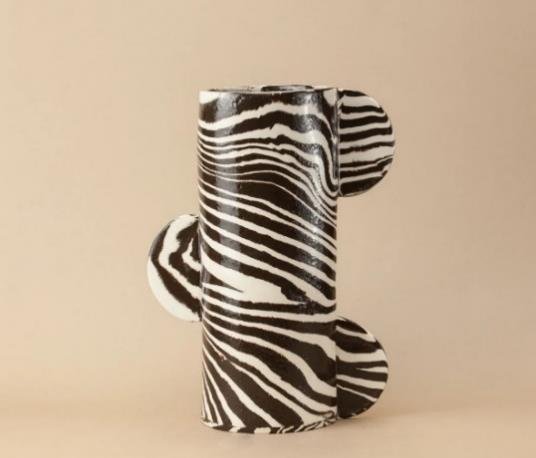 Quillattire
A bold, sculptural, ceramic piece by sustainable streetwear brand, Quillattire, also features within The Arc's living space. The fashion studio's work represents the youth, individual style, voice, expression of its makers.
The motto of the label is 'I am who I am. Your approval is not needed' with its genderless clothing designs offering a freedom and allowing the wearer to define their own style. Their ceramic work is a playful reflection of this and makes a bold statement within The Arc show apartment.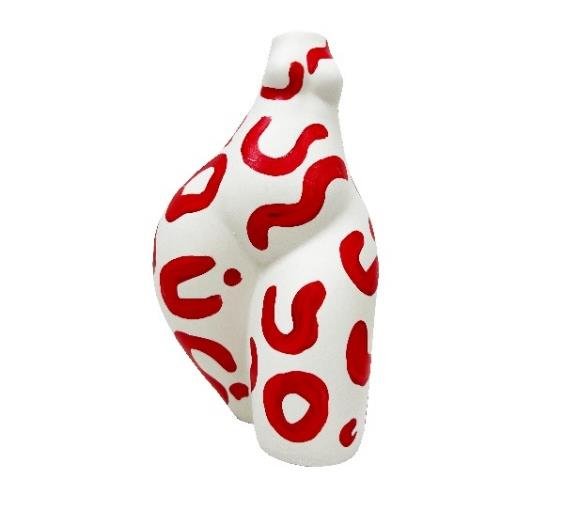 Max Hembrow
The Shoreditch based artist Max Hembrow (b. 1994) studied fine art, portraiture and figurative abstraction at Arts University Bournemouth, the Florence Academy of Art, Central Saint Martins and the Paris College of Art. His technique is complex and nuanced with vivid compositions examining cubism, art history, identity and the female form. The pictured canvas is titled 'The Jungle (Homage to Lam)', 2020.
BEDROOM ONE
Palette, Paints & Fabrics
In contrast to the block colours of the living and dining space, the master bedroom features a sophisticated and modern take on retro, 1970s-inspired patterns. Varying shades of pink and peach are complemented by muted, earthy green, ochre yellow, and subtle metallics. Textures vary from silk grasscloth wallpaper to heavy boucle and woven cotton fabrics, offering a sense of tactility throughout.
Headboard
A bespoke, upholstered curved headboard, echoes the arc shape that features across the communal areas of the building. Multiple block and patterned fabrics are combined to create a dazzlingly impactful headboard, that is an artwork in its own right.
Yarn Collective fabrics include 'MILA' 50% recycled linen, and 'ALBEE' 100% recycled cotton. Yarn Collective source fabric from fashion industry waste. Scrap cotton and linen that was coloured in its previous life is re-dyed to a similar but more desirable shade, using 40% less dye and 40% less water than if dying new fabric from scratch.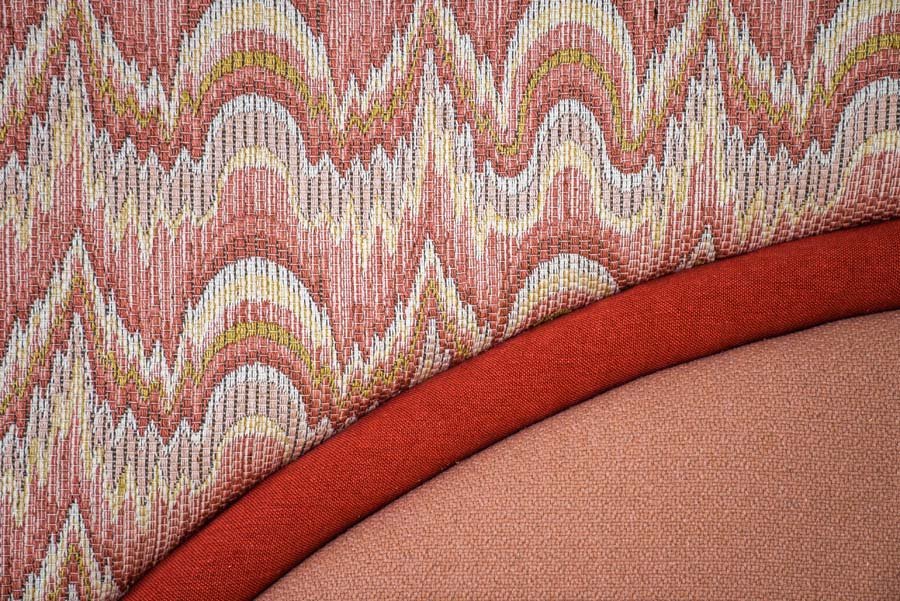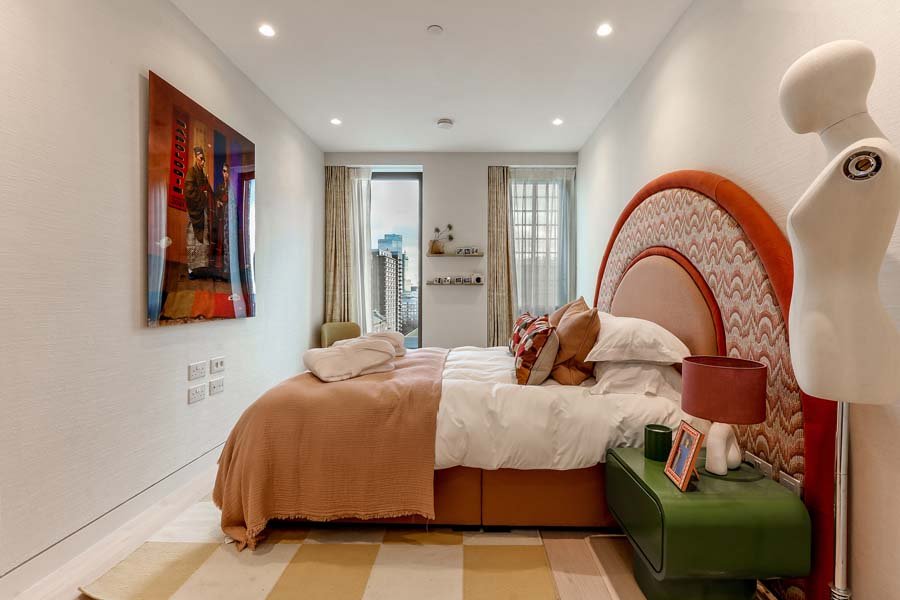 BEDROOM TWO
Palette, Paints & Fabrics
The theme of pastel blue and pink runs throughout the show apartment, but the shades are deeper and more muted in Bedroom Two. Again, the rich red reflective of the building's brickwork is drawn in through fabric. Simplified check and stripe patterns add detail to the canvas of the room, while retaining a more minimalist theme.
Bedside Lamps by Miyelle
As a self-taught ceramicist, Miyelle is inspired by both natural forms and abstract shapes. With an emphasis on creating functional homewares, Miyelle's pieces enhance the experience of everyday rituals by creating works that are playful, beautiful and tactile. Each piece is carefully crafted by hand at the ceramics studio Clay Collective in London.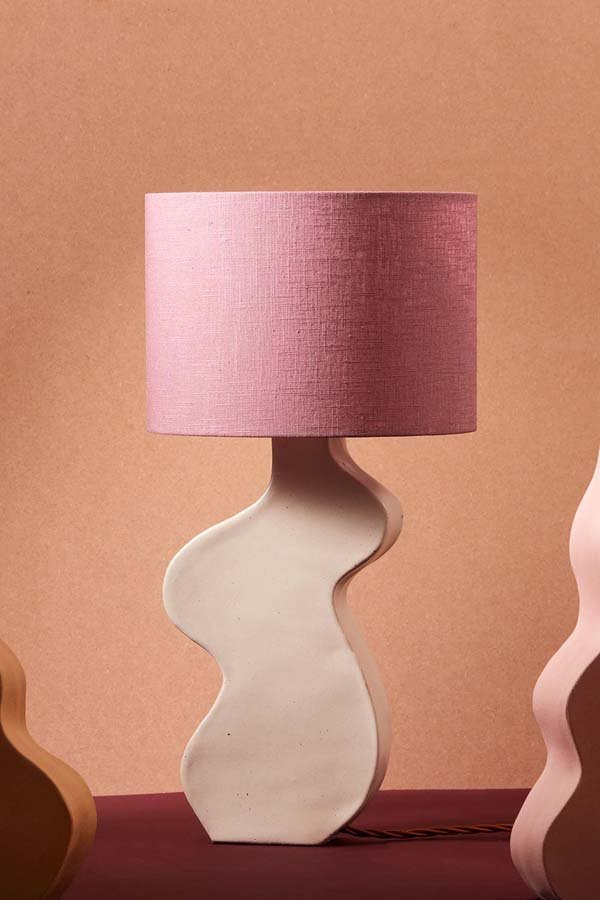 Furnishings
The bespoke headboard of Bedroom Two is a direct reference to the sofa in the living and dining room.
The wooden wallcovering has a blueish tint, with a colour-matched paint for the skirting boards that offers a calming atmosphere. Funky, chequered cushions add a pop of print to the room.
An abstract feature mirror graces the wall.
"