A lady of the Renaissance, Solveig Cirone is inspired by nature, magical-mystical mythology, love, and believing in the phantasmagorical. She puts this enchantment in each one of her creations that symbolized Joseph Campbell "Power of Myth". "I always felt that I was leading lady in a charmed life. At times roaming the Earth like a Goddess", states the star of our Special New Year Issue, Solveig Cirone, who has generously been gifted with various talents. Being an outstanding doer in different spheres of activity, Solveig is also a creative designer and President of Cirone Swimwear.
Career in culture and arts
Solveig Cirone has a strong belief that all things are possible when you believe. As Norweigan-Italian, she began her career in culture and arts at a young age with scholarships from her community in Washington State as a youth. Even the young artist won a literacy writing contest, having her photograph of "The Day In the Life of the Columbia Pacific" in the Library of Congress, winning the attention of her art pieces by the Oregonian journalist who commented that those artists looked like Leonardo da Vinci's charcoal and this artist looked like a Picasso version, not realizing the artist were sisters. At BYU, she received Leadership scholarships, and teaching scholarships from Beverly Sorenson who is a contributor to the Shakespeare Festival, 50 Title 1 schools, and college students and is continuing her Leadership studies at Pepperdine University in a MBA Leadership Program. Fashion innovator Solveig leads in fashion, advent guard trends where she coined the nonsensical word "swimlingerie" to mean a swimsuit, bodysuit, and lingerie. Adorned in Swarovski crystals, stretch lace, power mesh, Italian lycras, velvet lycras or dripping in diamonds and feathers look from her Piece De' Resistance 2020-2021 billboard collection.
Solveig has realized that being copied is the greatest form of flattery in the fashion industry. She illuminates light and love in her designs and focusing on positive psychology bringing out the Goddess in the women who wear her divine pieces.
The human body is the ultimate machine and each piece is crafted to accentuate the women's individual beauty whether the d.collet., legs, waist, or shoulders. A woman can be transformed into a paragon of loveliness when she feels confident. When she walks in a room and there is coup de'foudre or people stop and listen and look at her perpetual beauty and confidence that she radiates in Cirone Couture.
Every woman has a beautiful body and it is designer's job to create designs to accentuate that beauty. The best part is to watch her eyes light up when she sees herself for the first time in a Cirone Swimlingerie original exclusive piece. The design should follow the lines of her body to give her the best version of herself. Cirone designs are also magnifying the female spirit and soul.
Worldwide recognition
Cirone got her start in Beverly Hills walking as a runway model for Art Hearts Fashion and then began designing swimsuits thinking it would be less fabric and easier to start with. Little did she realize that there were many prototypes and mockups in one design.
Her first show was LA Swim Week in which she wanted to use metallic sheen lace, rose gold, blue gold, white and black gold Italian lycras.
Being recognized for her feminine Italian designs, Solveig was then invited to Miami Swim Week, where she had her debut show at the epicenter of swimsuits.
There they said that she created the revolutionary frong or front thong and brought back high hips. Recognized in Cosmo, Vogue Italia, Vogue France, Vogue China, Marie Claire, Elle, and countless others with over 100 M views on YouTube.
Solveig likes making things happen when others say it cannot be done or being met with opposition giving the element of surprise at how greatly she feats.
"Great spirits have always encountered violent opposition from mediocre minds", stated Albert Einstein.
Solveig uses unconventional textiles and when someone says she can't do it, it makes her want to accomplish it even more to beat the odds. When they said you could not use lace in swimlingerie, she made four way stretch lace, or metal hard ware on a swimsuit and she used it on the hips or bust adorned with Swarovski safety pins in 2022-2023 collection, or velvet lycra with grommets and corset chords. She falls in love with the unusual making an extraordinary and unique one-of-a kind multifunctional piece that can be bodysuit, swimwear, or lingerie.
God's beauty around us
Solveig finds inspiration in nature around her and recently wrote "Divine Health", "Odyssey and Inspiration for Solveig's Health and Beauty Lifestyle" going into her beauty laws, mountaineering, pescetarian, vegetarian, raw, intermittent fasting, and other health regimes that she lives by. If one cannot appreciate five million stars in nature then how can they appreciate a five-star hotel or a beautiful woman or luxury things?
If one can appreciate God's beauty around them then they will appreciate the beauty of a woman or a Ferrari. Innovation starts in biomimicry where we gain innovative ideas from nature. Art mimics nature and nature mimics art.
Aficionado of many sports and arts Skiing sense she could walk and now embarking on ProAm ballroom dancing, Solveig is an aficionado of many sports and arts such as piano, ballet, anthropology, and the wonders of the world. Solveig is a polyglot and can be placed in multiple countries like France, Italy, South America, and China.
Solveig is dedicated to flourishing humanity towards the light as an activator and philanthropist. She focuses on positive psychology and path to happiness.
Power of One
Luck is created by your choices, hard work, and manifestations. Luck is not by chance. Cirone's family crest on her maternal side is hard work conquers all or Omnia Labor Vincit. "The power of one is all that Makes the difference.
With determination, persistence, and positive influence; one tree can grow a forest, one flower can start a spring, and one smile begins a friendship." Solveig continues," one flame starts a fire, one ray of light brightens a room, one song brings hope." It takes courage to follow one's passion and dreams. It takes bravery to find one's sweet spot which is between what motivates you and what you are talented and gifted at then you will make money and be successful. This is finding your true north that will lead you through your life. Solveig also teaches in her Divine Health: "I've always noticed at an early age that I lead my sisters and friends. It must be true that Italians lead and don't follow. I've been blazing the way as long as I can remember. I'm honoured that the blood in me does this naturally."
Living with the great words of John F. Kennedy. "Only those who have dared to fail greatly can ever achieve greatly." Her repertoire exploding with energy to achieve monumental feats at incredible heights.
Cultivating humanity and helping others flourish towards the light are some of Solveig's philanthropic goals. As a leader in the industry of the arts, humbly inclines and inquires with compassion to assist others in their passion and dreams as a way of giving back to her community to lift higher and love harder.
Solveig focuses on positive psychology, thus reversing age (the fulcrum part of the brain) and adverse traumas. Success stems rom happiness not the other way around. Currently, she is working on her Master's in Business and Leadership from Pepperdine University where she is studying positive psychology, happiness, and empathy.
The Cirone Paragon
The highest level of loveliness is the Cirone Paragon. Solveig has fallen in love with each one of her pieces like the Pygmalion effect creating different ideas with each one of her designs, which perfectly constitute Beauty Laws of the Universe. The Birth of Venus by Botticelli was Solveig's first inspiration. Then the Magi and Child in La Madonna Collection, The Starry Night by Vincent van Gogh, and then poetry and music La vie en Rose, Piece De' Resistance Collection and the centennial year of 1920 to 2020, the Divine Pink Feminine and Loving at all sacrifice, L'eouff.
La Madonna Collection 2016
Bold wet lycra in red, black, silver, gold, and white was her debut collection at the epicenter of Miami Swim Week around the world being recognized with over a 100 M views on YouTube, signifying the Italian Renaissance. Sheer mesh is used with color blocking, unique designs and Swarovski as well as Preciosa crystals that are placed by hand.
Crochet Collection 2017
They are energy healing pieces with raw crystals, Swarovski, and metallic Italian yarn that debuted at Coachella, Miss Multiverse Pageant, and Hawaii. Cirone is looking at a Bali for manufacturing to be made by hand.

Moonlight Collection 2018
Solveig's Collection 2018 is inspired by Vincent Van Gough's The Starry Night. Its swimsuits are made from bravado velvet lycra in black, midnight blue, meridian, silver, and white for a femme nouveau finish using intricate lattice details on hips, chest, and back. Each piece is adorned with delicate lace and Swarovski as well as Preciosa crystals. Cirone Swim gives a striking ethereal glow inspired by Parisian fashion and Van Gough's "The more you love, the more you suffer." The Starry Night… so every Millennial and Gen Z lady can feel like a soft, silky, and sexy vixen.
Vie a'la Rose Collection 2019
This splendid collection is all about to see life through rose-colored glasses. Solveig Cirone captures the hopeless romantic in the rose gold, champagne gold, white, silver, and black lycra feaux leather and bold wet lycra. With embellishments of Swarovski and Preciosa crystals in blush pink.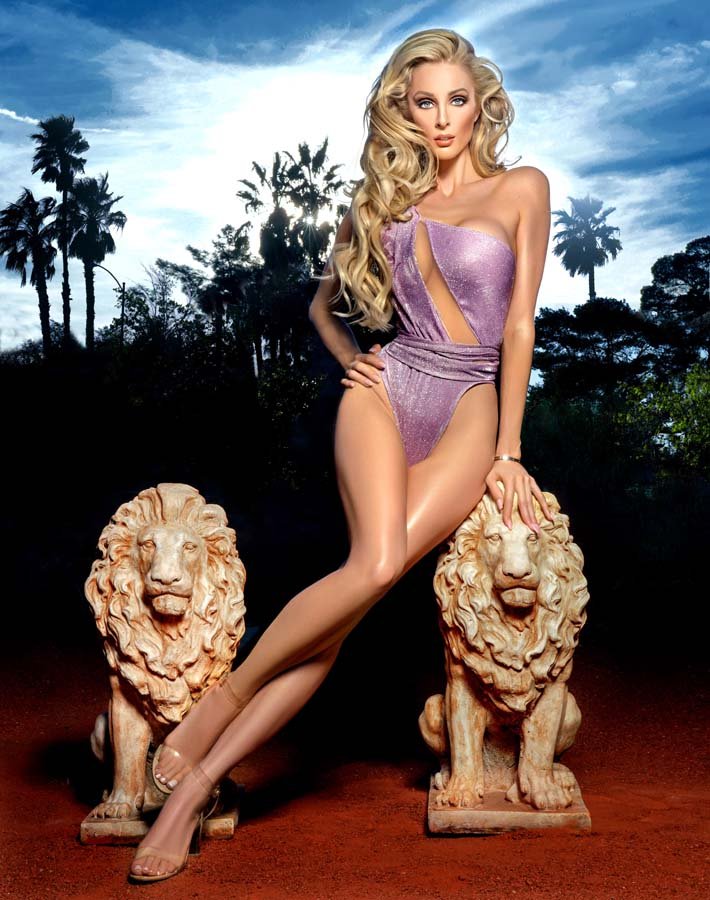 Piece De' Resistance Collection 2020-2021
This indicates Solveig Cirone's fifth year as a creative designer and President of Cirone Swimwear. Piece De' Resistance is an artist's greatest work and during Covid Pandemic, Solveig recognizes these times as rebirth of the Jazz Age, the rolling 20s live on. Bringing to the front stage the torch light, pin stripes, La Smoking Swimsuit, and a sempiternal spring lavender for an eternal spring look in Strauss crystal lycra or crushed crystal in black, silver, bronze, gold, and lavender. Embellishments of Swarovski and Preciosa crystals are intricately placed by hand.
L'eouff PINK 2022-23
The word love comes from the French word egg or Leouff. The egg is in the shape of a zero and hence love at nothing and all sacrifice. This collection was monochromatic pink to embrace the divine feminine energy. Solveig is a rare beauty indeed and is like the mythical Goddess from "The Power of Myth" and the ancient time when Goddesses roamed the Earth.
Cironeswim.com
IG: Solveigcirone_
info@cironeswim.com
Goldensummit77@gmail.com