A piece of Italy in the paradise tropics
On Maagau Island in the heart of the pristine Dhaalu Atoll, just 40 minutes from the capital Male by seaplane, guests are welcomed by 85 resort villas surrounded by tropical nature, azure waters and velvety white sands. The resort is distinguished by Italian hospitality and thought out to the smallest detail, so that guests can enjoy their Baglioni Hotels vacation in the heart of the Indian Ocean.
Designed to minimize environmental impact through the use of sustainable materials, Baglioni Resort Maldives is the ideal option for those who want to combine a love of nature and sport in a resort while immersing themselves in the beauty around them. In addition, the hotel collaborates with prestigious Italian brands such as Ferrari Trento, the world-favorite sparkling wine maker, Frette, which provides handmade linen bedding and towels; MC2 Saint Barth, designer swimwear, and Insìum, which develops innovative anti-aging cosmetics.
Baglioni Resort Maldives has it all. The resort offers 24/7 multilingual staff, a pristine pool, butler service, laundry and beach service with sun loungers. In addition, the guests can enjoy a pool bar, three restaurants, a spa with a pavilion for yoga in nature, a shopping boutique and a kids club where young visitors from 3 to 15 years old will have a good time. It has everything for an unforgettable holiday: relaxation, sports and author's cuisine.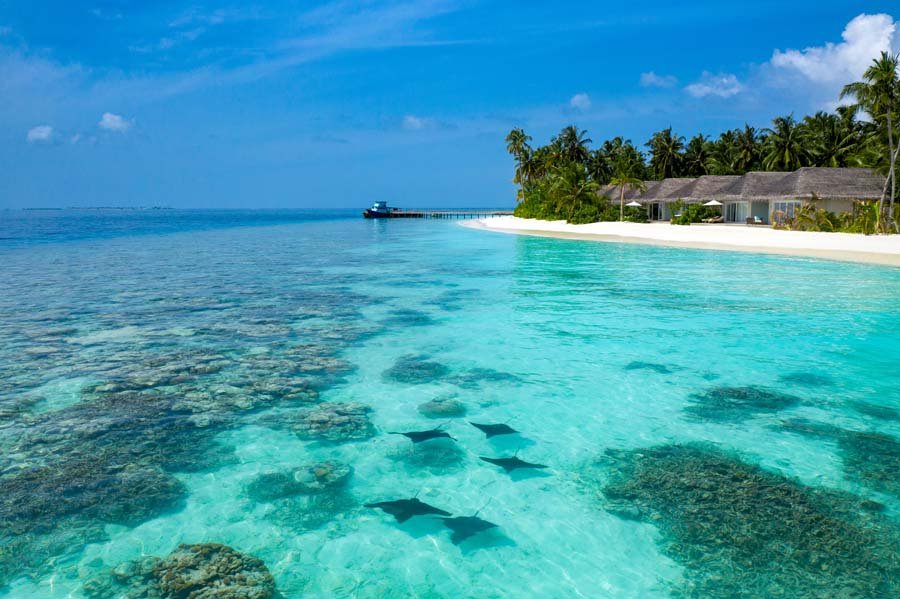 New categories of villas.
Baglioni Resort Maldives has added new categories of villas: Two Bedroom Pool Suite Beach Villa and Pool Sunset Beach Villa.
Two Bedroom Pool Suite Beach Villas – elegant villas with two spacious bedrooms where you can relax with the whole family on a private beach with a pool. Ideal for families who prefer a comfortable stay.
Pool Sunset Beach Villas – villas for a secluded holiday with direct access to the beach and a small private pool. The best place where you can enjoy the beauty of the Maldivian sunsets in the evenings.
This piece of paradise combines the unspoiled beauty of the Maldives with the unique Italian style of Baglioni Hotels & Resorts.
Baglioni Resort Maldives Villas:
1 Baglioni Residence: 670 sq.m.
(360 m2 indoors + 266 m2 terraces + 44 m2 private pool)
1 Beach Suite villa with 2 bedrooms and a swimming pool: 278 sq.m.
(180 sq.m. indoors + 82 sq.m. terraces + 16 sq.m. private pool)
5 family beach villas with two bedrooms and a swimming pool: 207 sq.m.
(135 sq.m. indoor + 45 sq.m. outdoor + 27 sq.m. private pool)
5 Pool Suite Beach Villas: 191 sq.m.
(115 sq.m. indoors + 60 sq.m. terrace + 16 sq.m. private pool)
5 Deluxe beach villas with swimming pool: 120 sq.m.
(77 sq.m. indoors + 25 sq.m. terrace + 18 sq.m. private pool)
5 Sunset Beach villas with swimming pool: 107 sq.m.
(65 sq.m. indoors + 22 sq.m. terrace + 20 sq.m. private pool)
9 water villas with swimming pool: 105 sq.m.
60 sq.m indoors + 35 sq.m outdoors + 10 sq.m private pool)
17 water villas: 105 sq.m.
(60 sq.m indoors + 45 sq.m outdoors)
16 Sunset Water Villa: 105 sq.m.
(60 sq.m indoors + 45 sq.m outdoors)
21 beach villas: 87 sq.m.
(65 sq.m indoors + 22 sq.m outdoors)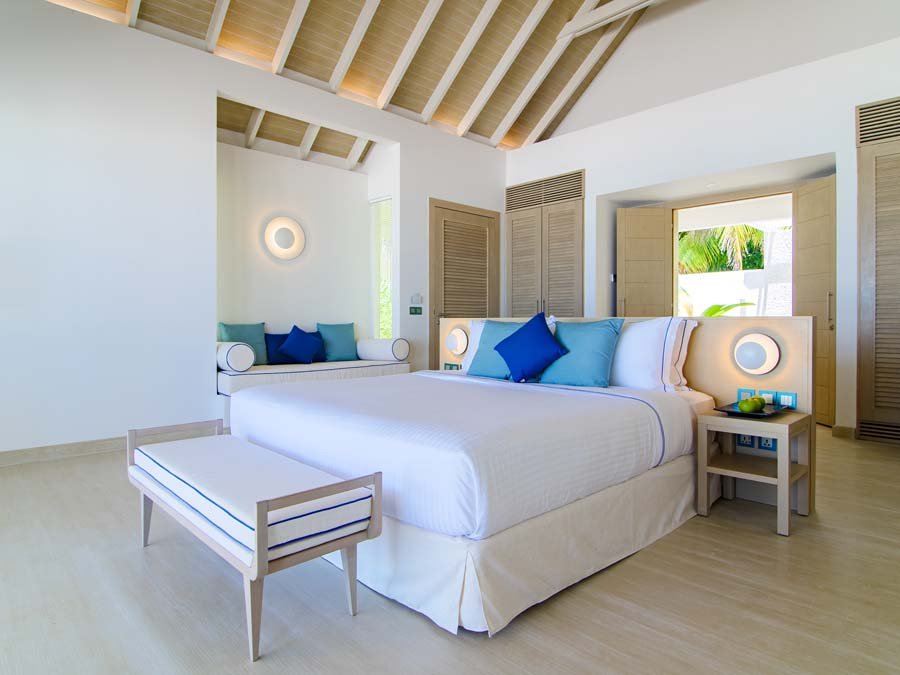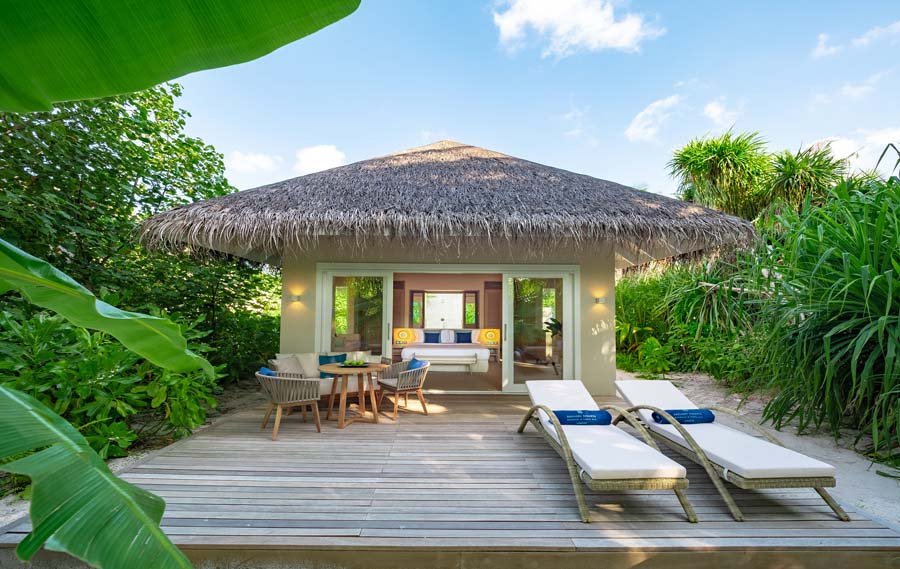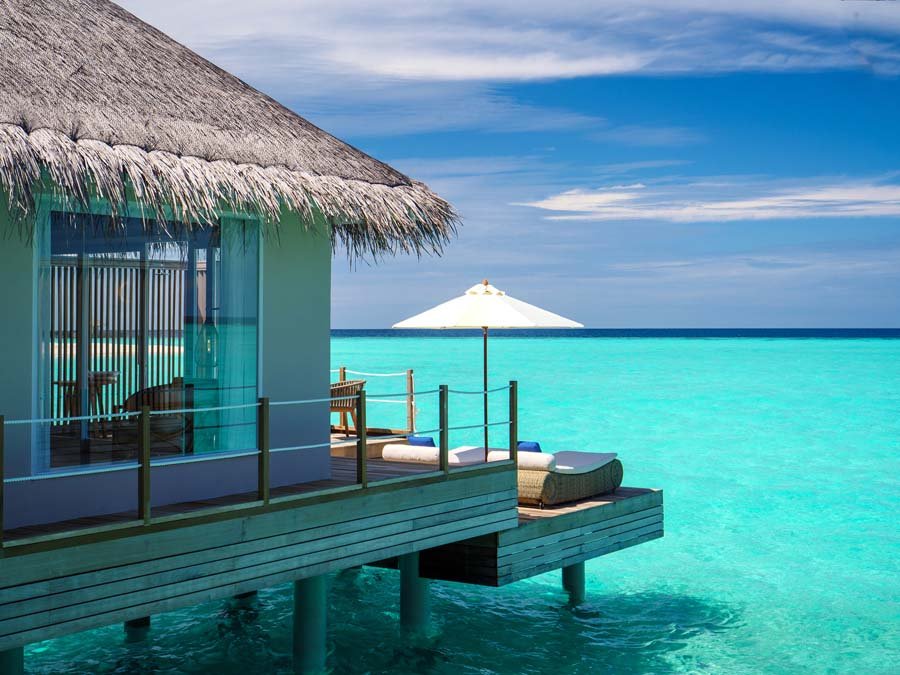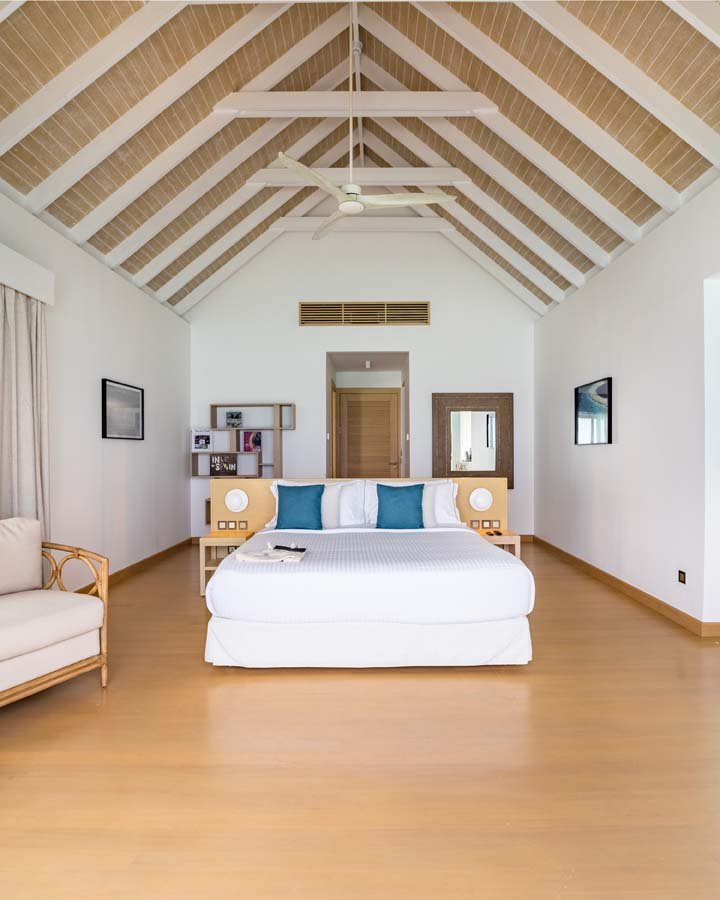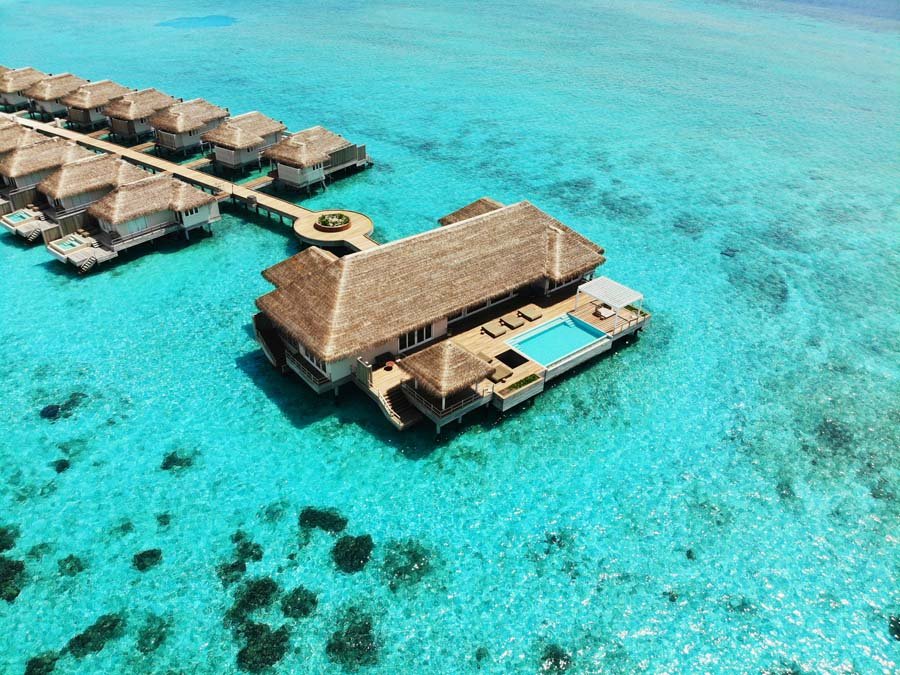 Leisure and sports. Adventures in Italian style.
Gym, beach volleyball and non-motorized water sports, pedal boats, windsurfing, kayaking, boat trips and snorkeling with provision of full equipment. The choice is yours!
Gold Palm 5-star Dive Center's professional instructors will guide you to some of the best dive sites on the planet, with daytime excursions and special night tours available. Due to its unique location away from the most visited atolls, the diving center offers a lot of opportunities to explore the pristine reefs. All dive sites are close to the island, so travel time is kept to a minimum.
Snorkeling for all levels and tastes:
Snorkeling for beginners: for those who have never put on a mask, fins and mouthpiece. An easy but worthwhile shallow water experience suitable for everyone.
Adventure snorkelling: two excursions a day from 9.30 to 12.30 aboard a dhoni, a traditional local boat, to visit two reefs in search of turtles, moray eels, rare species of fish.
Sunset Scuba Diving: A torchlight experience as night falls to discover the amazing colors of the corals and the world of Maldivian fauna.
Some of our unforgettable excursions:
Getting to know the Maldives: Tour a nearby island to get to know the locals and their lifestyle. Small tourist shops sell souvenirs for guests to take home.
Golden Sand Beach: A combination of snorkeling and relaxation on the soft sands that rise from the crystal clear waters near Maagau.
Dolphin Tour: A fantastic 2-hour boat tour to meet dolphions with an expert marine biologist company.
Cruise under the stars: A romantic boat trip for two to watch the stars while sipping a sparkling Ferrari and tasting traditional Italian snacks. iPads will be provided with apps to help recognize the various constellations.
Sunset Cruise: Depart at 18:30 aboard a traditional Maldivian boat for an unforgettable aperitif as the sun sets on the ocean.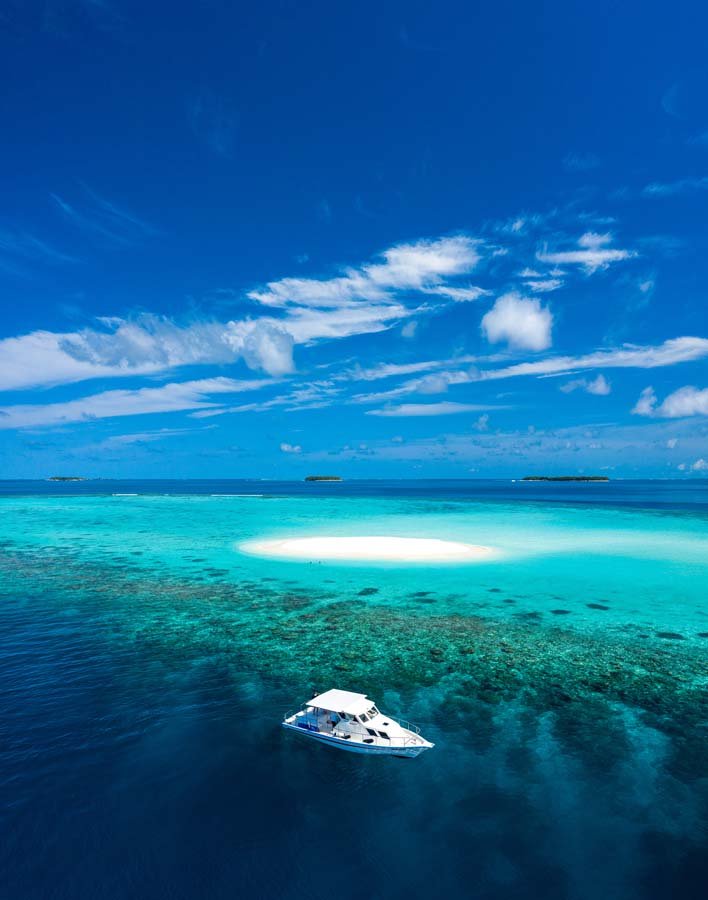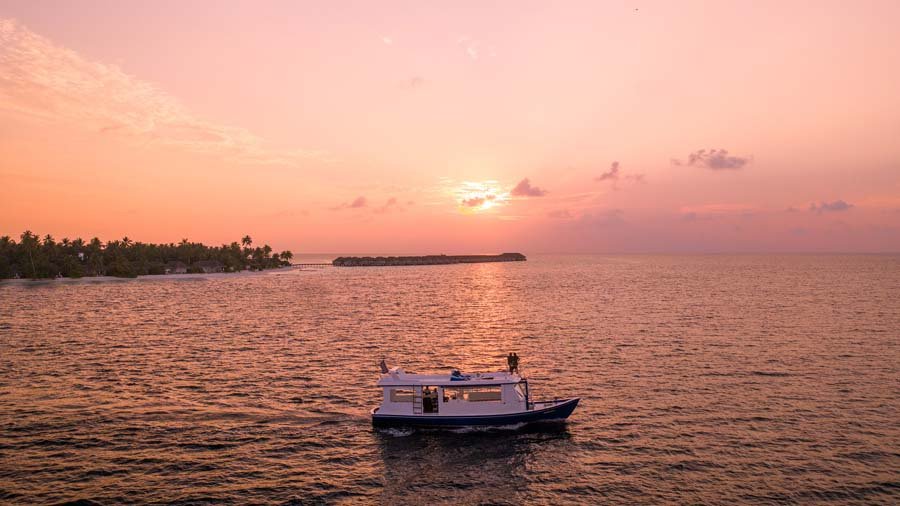 For gourmets. Mesmerizing views of the Maldives and Italian dishes.
For the most sophisticated guests from all over the world, the resort has developed special gastronomic programs in the signature Italian style. Pool bar and three excellent restaurants: Italian – Gusto; Japanese – Umami; and Taste that combines international dishes and offers haute cuisine along with a healthy food menu, consisting of light and nutritious dishes, and a children's menu created especially for young guests. Aperitifs, wine tastings and dinners are also held.
GUSTO. Italian restaurant.
Gusto Restaurant, open from 20:30 to 22:30, offers a feast of authentic Italian cuisine, the central element of a stay in Baglioni hotels. This is the perfect place for a romantic dinner under the stars, under the sound of waves and with a view of the ocean. Italian culinary culture values delicious and healthy food and the à la carte menu is not an exception, offering traditional Mediterranean dishes with a modern approach and careful selection of ingredients.
UMAMI. Japanese restaurant.
The gourmet culture of Japan is a perfect addition to the style of Baglioni Hotels, as the form and content are combined in the Umami restaurant.
Masterly processed dishes combine a love of design and carefully using ingredients of the highest quality.
TASTE. International cuisine restaurant.
Taste Restaurant has its own collection of exquisite international dishes for breakfast and dinner. From 7.30 to 11.00 am, guests gather to start the day with a delicious continental and Asian buffet breakfast. And from 7.30 to 10.30 pm, the restaurant offers an delightful dinner of Italian and Asian fusion cuisine with intriguing combinations of selected wines.

POOL BAR
The perfect place to relax after an energetic swimming. From 12:00 to 16:00 pm the bar offers a light selection of pasta, pizza and salads, as well as dishes from the à la carte menu. And 19.02 is the time for an aperitif with Ferrari Trento – guests enjoy snacks with a glass of Italian sparkling wine. Guests can enjoy live music with a DJ and dancing after dinner.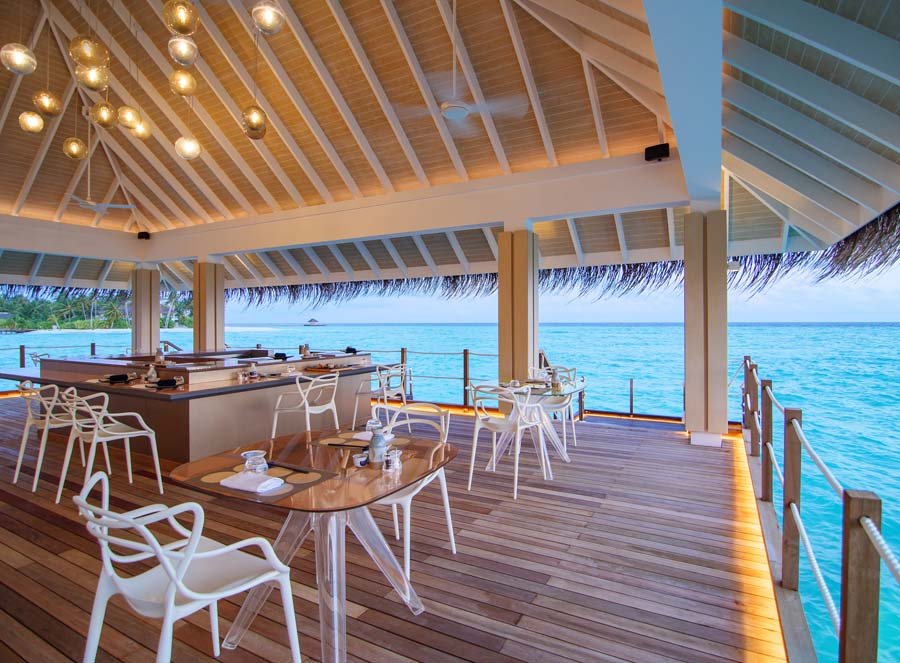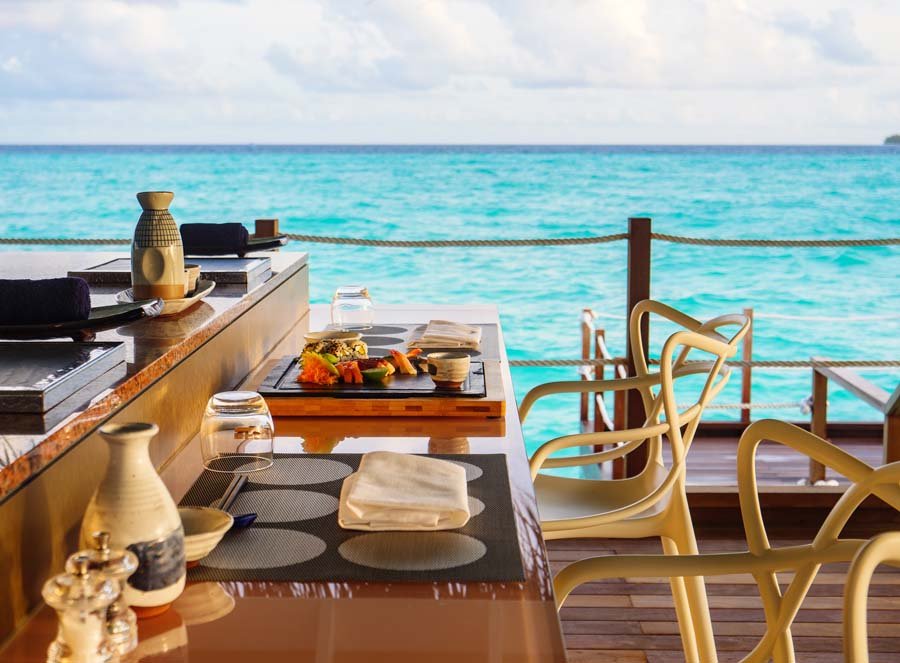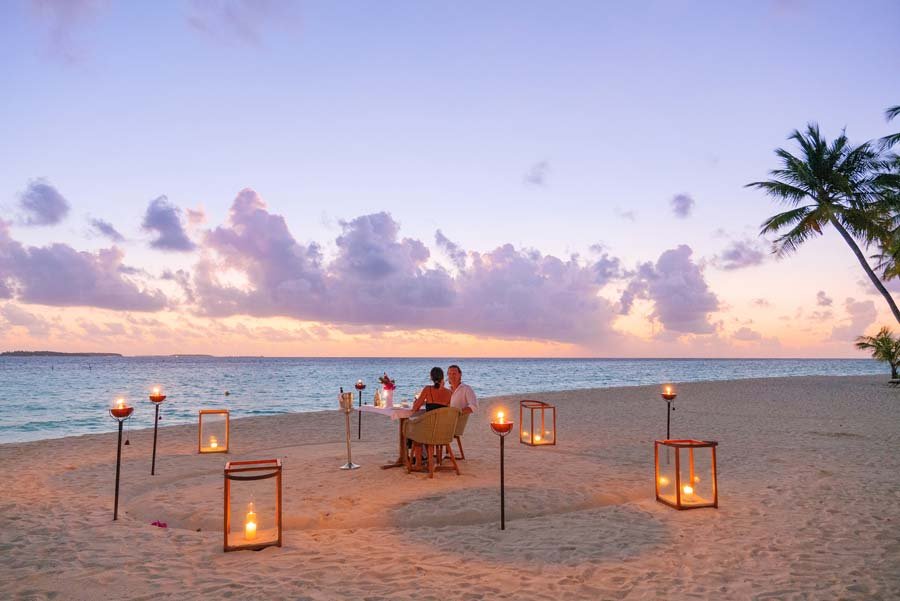 SPA treatments from Baglioni. Italian comfort and tropical relaxation.
Italian oasis in the bosom of nature Baglioni Spa is a spa center with a conceptual design, which has four wooden outdoor pavilions for individual programs, two combined pavilions with programs for two persons and a space for yoga, breathing and meditation practices, as well as a fully equipped gym. Baglioni Spa is the ideal place to find serenity and deep peace in the gentle tropical embrace.
Insìum cosmetics, the 100% Italian brand, conforms to the vegetarian ideology and is certified by PETA, the world's largest animal rights organization, as "ethically humane".
The spa menu includes Thai and Balinese rituals, massage according to an individual program, moisturizing and rejuvenation of the face and body, regeneration of hair damaged by the sun and sea water. Baglioni Spa offers as individual so group, children's and family programs.
For families, couples and friends
Baglioni Spa also offers treatments for two persons or for groups of up to four people. Group treatments last about 90 minutes and are usually performed for two people at the same time in a special room, where a hot tub is also offered for guests.
Fabulous rituals for face and body
Stresses and everyday worries are also affect your appearance. Taking time to rest is a virtue that Italy has always cherished.
Our facial and body treatments are performed by experienced beauty consultants who skillfully combine specialized manual skills with high-quality branded products. Procedures for the face offer lifting, rejuvenating and regenerating treatment, and procedures for the body provide a remineralizing, soothing or detoxifying effect.
Massage on an individual order
Baglioni SPA offers a wide range of massages lasting 60, 75 or 90 minutes. Guests can personalize their treatments and even enjoy them in their villa. The following types of massage are available: Thai, Balinese, hot stone massage and deep tissue massage. Thai massage involves compression and pressure with the fingers and is an effective way to relieve muscle tension and increase flexibility. Balinese massage combines vigorous movements and delicate manipulations for a relaxing effect. Hot stone massage soothes and tones the body, while deep tissue massage enhances blood flow and lymph flow, removes toxins, relieves stress and reduce muscle pain.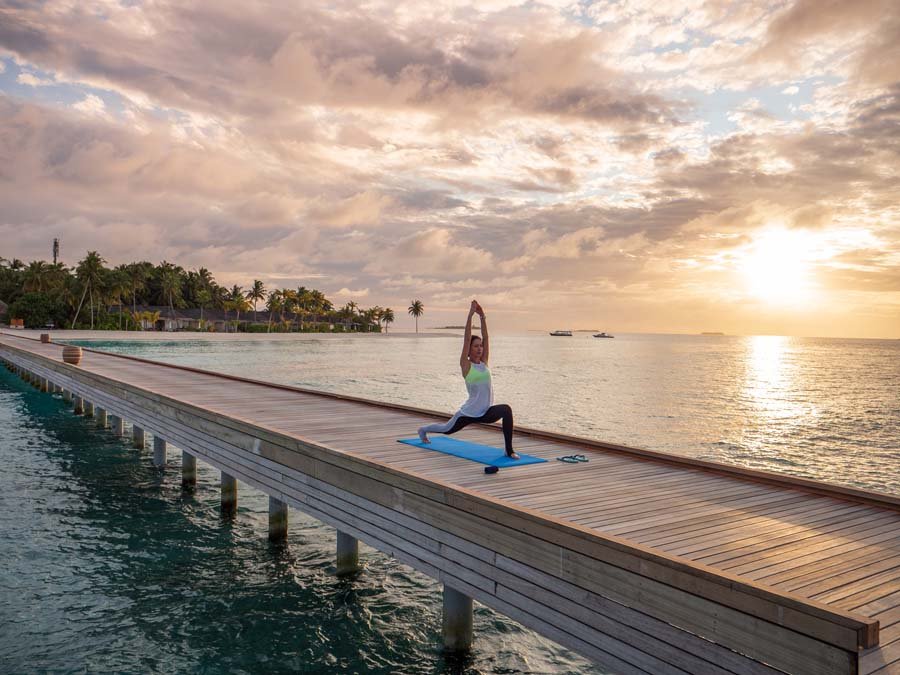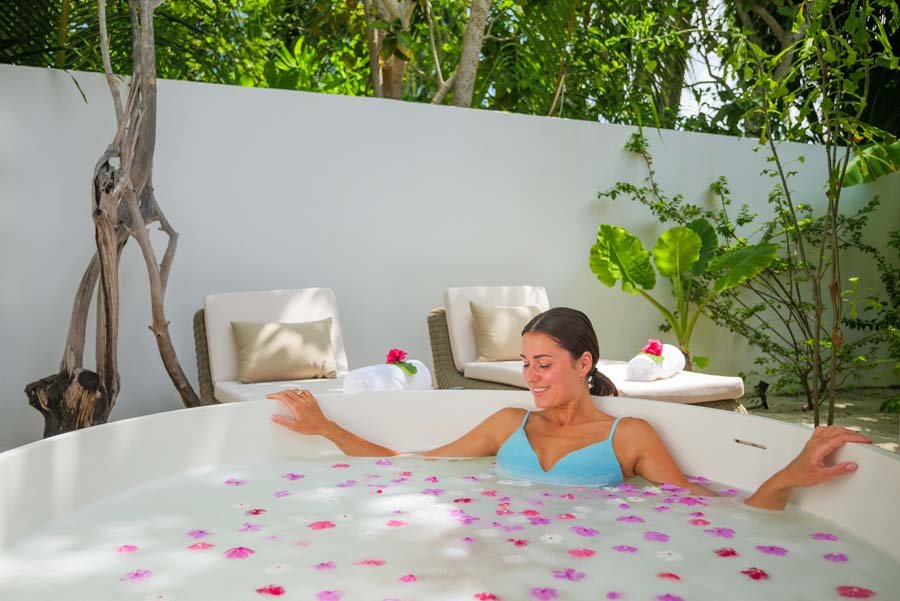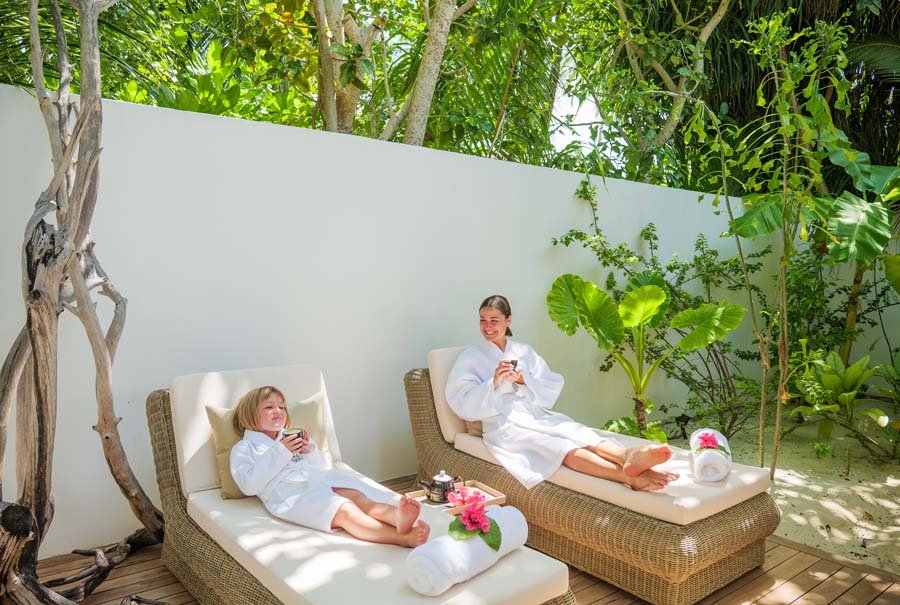 Children's club.  Great impressions for young researchers
For Italians, family always comes first, and children are it's beating heart. Little guests are warmly welcomed at Baglioni Resort Maldives, with a club for children aged 3 to 15 years, where a rich program of games, sports and educational events are offered.
Events for everyone
The children's club holds various events for different age groups. The youngest guests can take part in simple, fun games and activities such as "Mini-Olympics", cross-country races and balloon launches, sand castle building competitions, treasure hunting, water games on the beach, practical creative workshops and much more.
Games and sports for elder children
We organize a whole range of outdoor events from fun table football and bowling tournaments to water games, obstacle races on the beach and other events.
Creative workshops
Creativity is a fascinating world that can be discovered. Our creative classes give children the opportunity to show their talents, learn something new, enjoy fresh experiences and possibilities. We conduct master classes that study the use of colors by painting with paints, courses on making dolls, kites and mandalas, and much more.
From fun to health
In addition to all the entertainment at the kids club, Baglioni Resort also gives young guests time to relax at the Baglioni Spa. We offer massages specially destined for boys and girls aged 5 to 15 years, based on the best natural methods and special techniques. Feeling good means eating well, so we take special care of their diet. Restaurants and bars offer delicious, healthy children's meals, and there are even courses to teach children the importance of proper nutrition.