THE GHOST OF MANCHESTER PAST, PRESENT AND FUTURE
Rolls-Royce Motor Cars Manchester unveils one-of-one Manchester Ghost
Extensively Bespoke Manchester Ghost celebrates the historical resonance of the city for the marque, the remarkable accomplishments achieved by the people of Manchester and the city today
The first Rolls-Royce to be inspired by the city of Manchester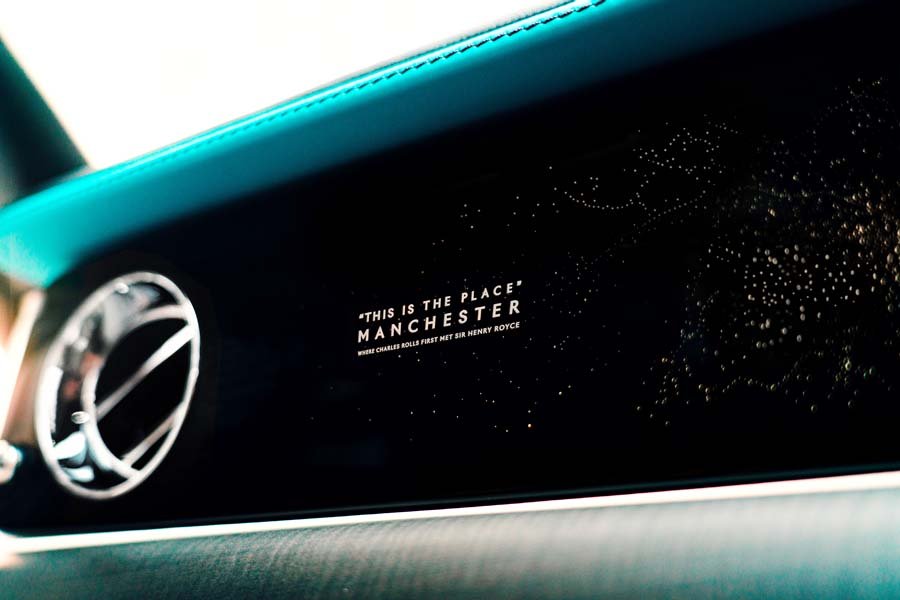 "I am proud to unveil the Manchester Ghost, a truly special one-of-one embodiment of artistry and skill, curated in collaboration with our Dealer Partners from Rolls-Royce Motor Cars Manchester. As Charles Rolls and Henry Royce first met in Manchester, the city has, and always will have, a potent historical resonance for the marque. Our accomplished artisans, designers and engineers at the Home of Rolls-Royce at Goodwood, West Sussex have created a truly remarkable motor car, capturing the city's history, and the city today, as well as celebrating some of its most remarkable accomplishments. The Manchester Ghost brings together the Home of Rolls-Royce where each motor car is hand built and the city where the original idea for Rolls-Royce was born." Boris Weletzky, Regional Director of Rolls-Royce Motor Cars, United Kingdom, Europe, CIS
A unique and extensively Bespoke one-of-one Ghost has been designed for Manchester, to celebrate the city's historical link with the marque. The northern metropolis has long been an important place for Rolls-Royce: on 4th May 1904, Charles Rolls and Henry Royce first met in the Midland Hotel, in central Manchester, and it was from this meeting that the marque's two founding fathers agreed together to create 'the best motor car in the world'. This is the first time, however, that the city of Manchester has been chosen as the inspiration for a Rolls-Royce commission.
The combined talent of the Bespoke Collective at the Home of Rolls-Royce saw designers, craftspeople and artisans collaborate over a period of two years to create this motor car. Designer Ieuan Hatherall explains: "Manchester has always been a part of Rolls-Royce's history. I wanted to create a highly contemporary yet elegant iteration of Ghost, honouring the significance of the city for the marque and celebrating the accomplishments of the people of Manchester whilst also incorporating the melange of Manchester's modern and traditional architecture."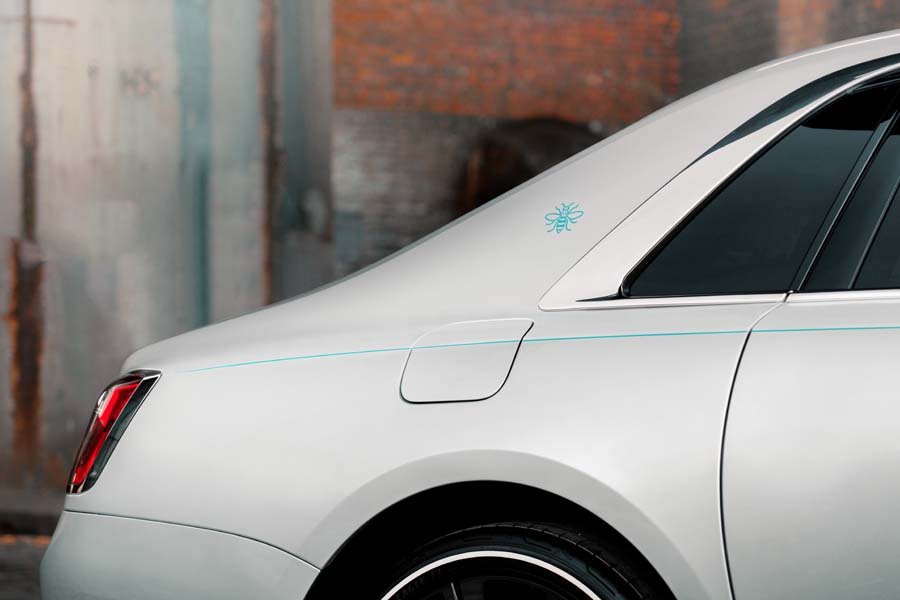 MANCHESTER BEE
The Manchester Bee, one of the best-known symbols of the city and emblem for the city for more than 150 years, has been a source of great inspiration for this motor car. The Manchester Bee symbolises Mancunians' strong work ethic and the city being a hive of activity. On the exterior of this unique motor car, a Bespoke motif, inspired by the Manchester Bee and presented in Turchese, is displayed on the C pillar. Inside, the Manchester Bee theme continues, with this iconic symbol embroidered on the front and rear seat inserts.
The traditional Silver exterior of the Manchester Ghost is punctuated with a coachline in Turchese, creating a contemporary accent to the car. The pinstripe wheel centre caps, also presented in Turchese, echo the design, while the brake callipers in the same hue elegantly complete the exterior.
Illuminated Fascia
For the Manchester Ghost, a truly special Illuminated Fascia, with 10,000 laser etched dots, depicts an ethereal view of Manchester from above. The largest etched dot on the Illuminated Fascia represents the location of the Midland Hotel, the very place where the marque's two founding fathers first met at the start of the twentieth century. The Illuminated Fascia references the title of the poem 'This is the Place' by Tony Walsh, a sentimental tribute to the city of Manchester.
Rear Seat Embroidery
Landmark locations in Manchester are embroidered in tone-on-tone thread to the rear seat centre and demonstrate the unrivalled capabilities of the Bespoke department.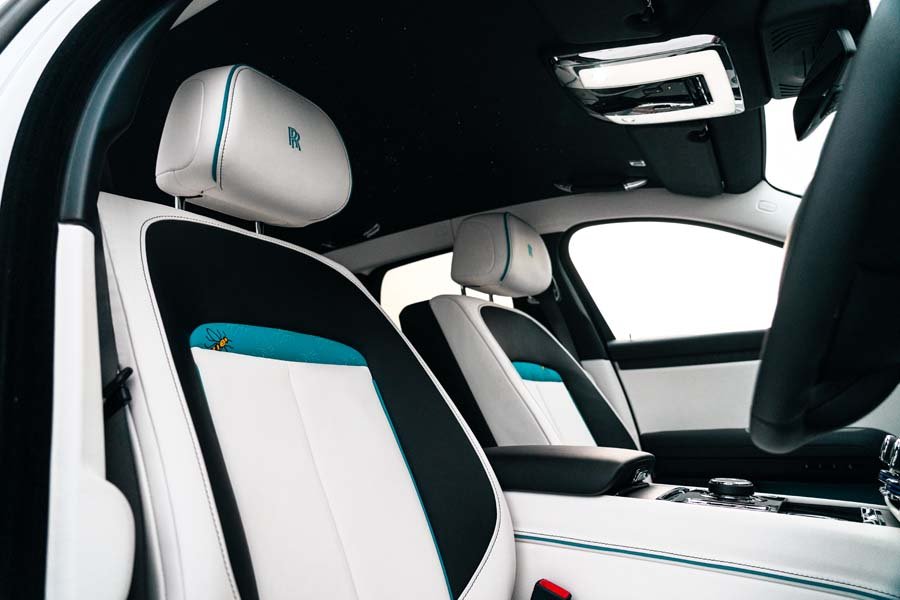 Graphene Headliner
In 2004, two professors at the University of Manchester first isolated Graphene, an incredibly lightweight, strong and flexible material. The discovery of this material, with its unique properties, helped to reaffirm Manchester as a city renowned for revolutionary inventions, academic expertise, and research. This Bespoke commission celebrates this pioneering spirit, with the fabled Rolls-Royce headliner depicting a Graphene lattice inspired pattern.
Illuminated Treadplates
The illuminated treadplates also celebrate Manchester's reputation as a pioneer in the field of technology. Inside the cabin doors, the abbreviated name for the city, 'MCR' is inscribed in Binary. This is a tribute to 'The Manchester Baby', the world's first stored programmed electronic digital computer which was successfully run at the University of Manchester on 21st June 1948 – a landmark moment in the history of computing.
"As a born and bred Mancunian, this commission is truly special and will always be highly memorable for me. From the moment we set out to design a motor car to celebrate the city of Manchester, we wanted to create something that would celebrate the city's history and the place today. It has been great to work with the team at Home of Rolls-Royce to turn our vision into a reality." Jon Crossley, Brand Director, Rolls-Royce Motor Cars Manchester