Even though Venice was founded 1,600 years ago, it seems safe to say this city has never seen a sight like that which unfolded here tonight. Watched by an audience that included Jennifer Lopez, Sean Combs, Doja Cat, Kris Jenner, Kourtney Kardashian, Ciara, Monica Bellucci, Christian Bale, Dame Helen Mirren, Kitty Spencer and many more, Domenico Dolce and Stefano Gabbana presented their latest Alta Moda collection in a venue that has, until now, never hosted a fashion show: St Mark's Square.
Those amongst the 400 or so super-rich clients in the audience who had attended these Dolce & Gabbana couture shows before knew to expect something extraordinary, and the designers duly delivered. Once we had settled into this so-famous-it-seemed-unreal space, we were treated to a 20-minute performance that mixed carnival with Fellini-esque storytelling. Jennifer Hudson appeared in a golden dress and belted out a spine-tingling performance of "Nessum Dorma," from Turandot, as the drones and seagulls arced overhead. This gave you time to soak up the Venetian Gothic backdrop and marvel and the sheer wonder of being here, doing this.
Next came the collection which was naturally delivered by gondola. These ancient boats, steered by strapping gentlemen and aided by an unusually cool breeze skimming across the lagoon offshore, offloaded a procession of models at the servizio pier alongside the Doge's Palace. As ever with these Alta Moda collections, the pieces were deeply seeped in the local artisanship and creative culture of the host city, in order both to celebrate the richness of Italian craftsmanship and in order to provide those clients with a site-specific and unique souvenir.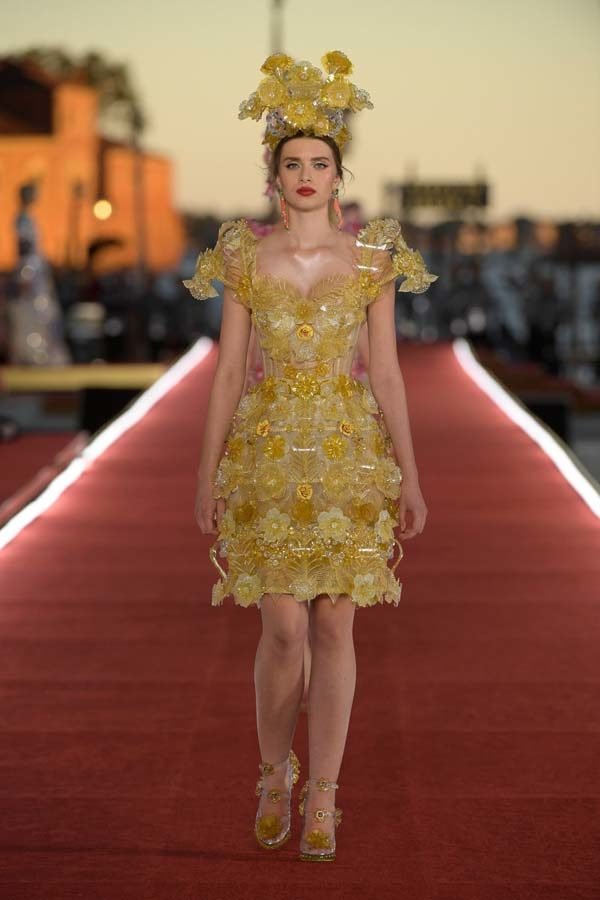 Photo: Courtesy of Dolce & Gabbana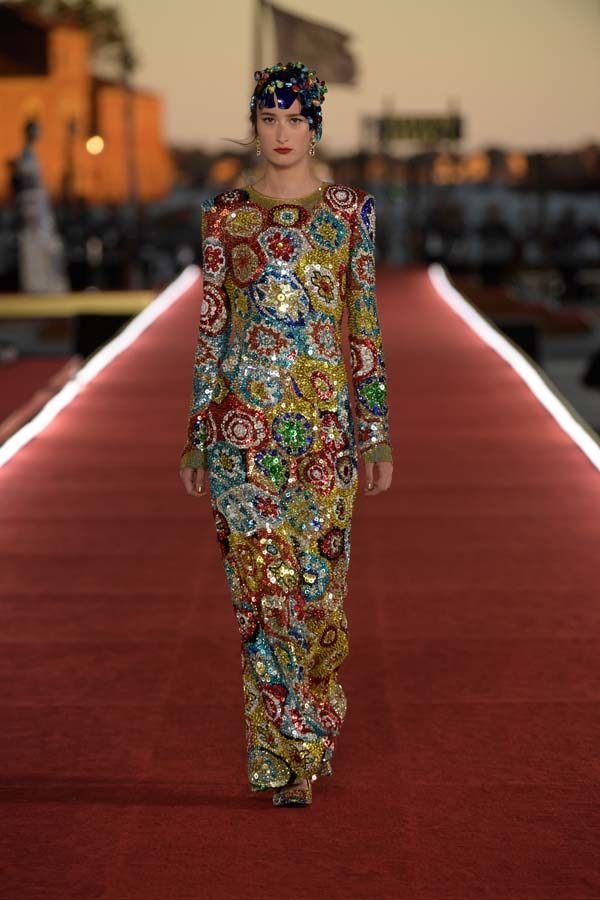 Photo: Courtesy of Dolce & Gabbana
Thus dresses in georgette and tulle were embroidered to uncannily reproduce the kaleidoscopic patterns of Murano glass, or the serpentine patterns on the floor of St Mark's. There were incredibly overstated cloaks in knotted rope and pieces collaging the city's famed winged lion protector, gondola prows, and carnival masks. Huge confections in satin (heavily used to reflect the silky canal reflections that intersect this city everywhere), and turbulent splashes in georgette added up to fantasy masked ball material.
Before this show Gabanna and Dolce had said that they planned to present a younger side of Alta Moda, "because everyone thinks couture is for the old, but that's not how it has to be." This was reflected in the punky styling and a casting that included a sextet of celebrity offspring, made up of Chance, Jessie James and D'Lila Star (daughters Sean Combs), Deva (daughter of Monica Bellucci), Luka, (daughter of Christian Bale) and Leni (daughter of Heidi Klum).

Photo: Courtesy of Dolce & Gabbana
Photo: Courtesy of Dolce & Gabbana
Photo: Courtesy of Dolce & Gabbana
Photo: Courtesy of Dolce & Gabbana
As this show continued, however, the typical extraordinariness of this Alta Moda presentation became exceptionally so, for it was as if Venice had been stirred into making a show of its own. By around 7:32 pm, just as Leni Klum was traversing the runway, a blanket of ominous clouds— almost as densely patterned as a Murano collage dress—seemed suddenly to be tugged down the skyline, leaving us suffused in an apricot sunset. Then minutes later, plump and apparently reluctant drops of rain began to splash the marble flagstones, creating the perfect conditions for a rainbow that unfolded from the roof of the Doge's Palace and stretched towards the Lido. Next came a ripple of sheet lightning, and then a jagged fork, and then two huge coughs of thunder, before the rain came in earnest. Completely wonderfully, the soundtrack to all this was Vivaldi's "Four Seasons," and completely fortunately, the rain only started to fall heavily just as the designers ran down the runway to a damp standing ovation.
Afterwards Domenico Dolce said: "You know I am a Catholic so I asked the Virgin, 'please, wait a little bit! Please!'" These were clothes—and a show—that both restored your faith in fashion and revived the joy of coming together to watch it unfold.

Photo: Courtesy of Dolce & Gabbana
Photo: Courtesy of Dolce & Gabbana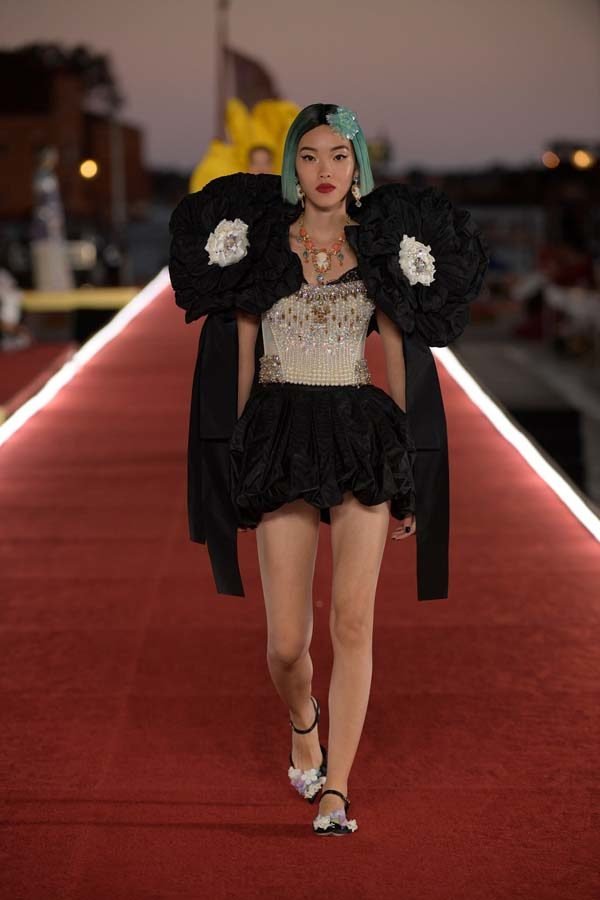 Photo: Courtesy of Dolce & Gabbana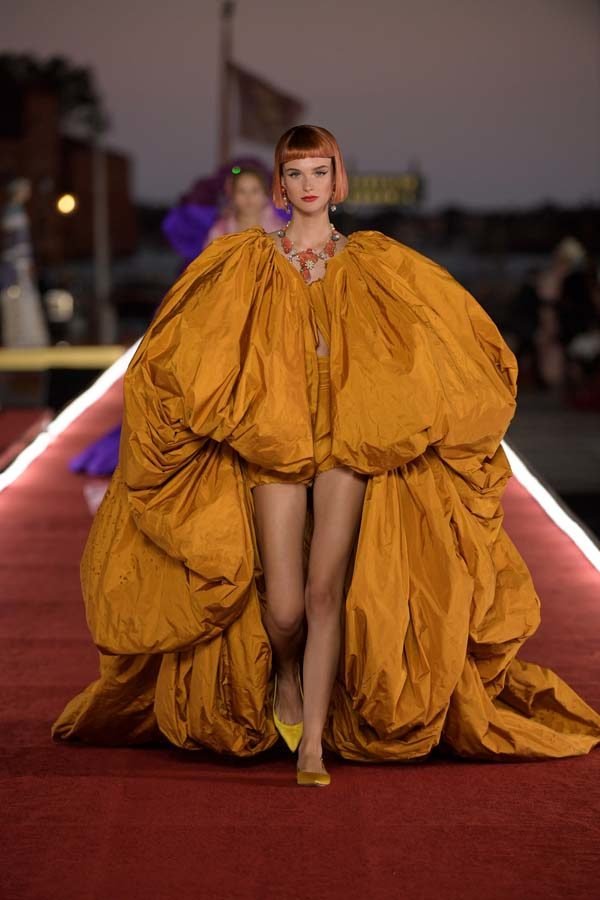 Photo: Courtesy of Dolce & Gabbana